Tonight's episode of The Bridge is titled "The Beast."
And, from what I was told about it at the Television Critics Association summer press tour, some major events are about to go down on the FX drama.
What started as a simple story of a dead body (well, two bodies) stuck half on the Mexico side of the border and half on the American side - with both country's law enforcement teaming up to solve the crime - will continue to unfold in brilliant and unexpected fashion tonight. Here's an idea of what's to come, courtesy of a few cast and crew member interview...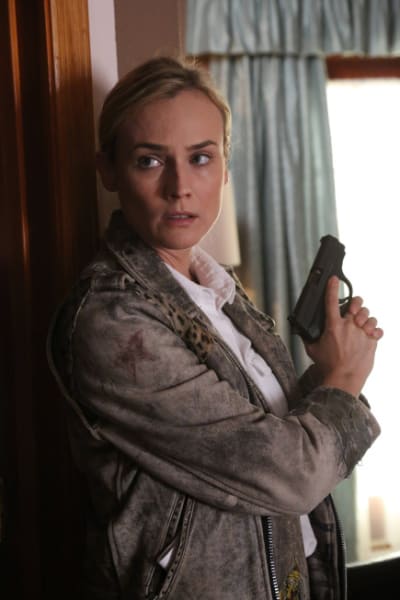 Watch for Marco and Sonya to get closer while we learn a bit more about the latter: "There's a groundbreaking moment between Marco and Sonya," Diane Kruger told me shortly after the show's TCA panel. "I think there's a moment where she gives away personal information about herself, which is a huge sign of trust on her part. There's a big possibility of a friendship or at least partners here."
The already-complicated home life of Marco may be getting more complex, as Kruger teased a "big twist" with her quasi partner's family. 
Marco and loner Linder have had a few meetings thus far, but tonight's looks to be a doozy. "It's a great scene," said Annabeth Gish, while Wright Thomas M. Wright added: "it's a very brief but a very significant scene. It's very filmic and it has to do with an absolute crossroads."
Gish also explained that Charlotte brings a piece of her past into her present, which will reveal even more about who she is. "I think who Charlotte is currently with the tunnel is an evolving, awakening woman finding her power."
We may not see all that power develop for Charlotte in "The Beast," but the character's days of being passive and defenseless with everything happening in her life are coming to an end. "It's pretty bad ass," Gish teased of what's to come from her widow.
Could we see Charlotte and Marco hook up again? Gish explained that, like everything on the series, nothing will be easy. "It's not just 'Okay, well, they're going to have an affair and they're going to be in a relationship.' No. It's complicated. It's flawed," she explained, adding: "Yes, we do see Marco and Charlotte again, but not in the way you think automatically it will present itself."
And will our team get closer to catching the serial killer? Perhaps, Kruger teased, only saying that in tonight's episode "we're getting another big clue for the serial killer."
In fact, getting a teaser for next week's episode, Executive Producer Meredith Stiehm said that Charlotte's storyline "gets a little crazy," while fellow producer Elwood Reid said this character will go "gangster."
Jim Halterman is the West Coast Editor of TV Fanatic and the owner of JimHalterman.com. Follow him on Twitter.