Brooklyn Nine-Nine is the best new comedy on television for two simple reasons:
Andy Samberg.
Andre Braugher.
Sitcoms are difficult to judge after one episode.,. or sometimes even one season. The best (Parks and Recreation, Community, New Girl) need time to dig into their characters, to learn who plays best with whom, to mine humor from established traits, relationships and flaws.
But Brooklyn Nine-Nine managed to come out of the gate without shooting blanks due to a pair of established stars in ideal roles.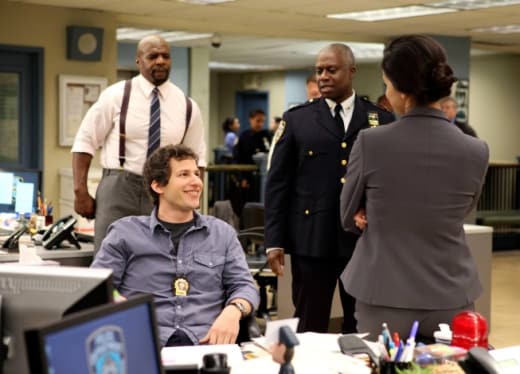 Samberg earned himself a loyal following for playing characters on Saturday Night Live that are similar to Detective Jake Peralta, although this officer is a bit more grounded than the guy who gifted his girlfriend with his junk in a box.
Jake is goofy, sweet, funny… and yet actually effective at his job. That last part is key.
Parks and Recreation - also created by Michael Schur and Dan Goor- struggled in its opening season by making Leslie Knope more bubbly than bureaucratic. The show took off when its lead became respected by those around her for an infectious enthusiasm that actually got things done.
Peralta already seems to be there. We quickly learn on the premiere that he's considered the best detective in the precinct, and then we get to witness his investigative acumen for ourselves. This is helpful for the long-term success of the series. Viewers wouldn't be able to take it seriously if a cop just went around wearing G-strings and leading fire extinguisher races all the time. He needs to actually put away bad guys.
Then there's Braugher.
One of the best dramatic actors on television, this is his first comedic role (although he told us he considered Men of a Certain Age to be a comedy), though he's playing the straightest of straight men.
Still, producers clearly know what they have in the former Homicide and Last Resort star, giving an unusually heavy storyline for a half-hour comedy: Captain Holt is gay and yearning to prove that he deserves the opportunity that has finally been afforded to him. Talk about an unexpected development. It lends gravitas to a show already built around the fairly serious subjects of burglaries and murders, making Brooklyn Nine-Nine feel unlike any sitcom on television.
The rest of the supporting cast is solid - Terry Crews as a sergeant who is happy to be behind a desk; Joe Lo Truglio as the awkward hard worker; Melissa Fumero as Jake's rival/potential love interest; Chelsea Peretti as a quirky civilian aide; Stephanie Beatriz as a scarily serious detective - each possessing a few clear traits that can be fleshed out in future episodes.
But this is Samberg and Braugher's vehicle and they led the pilot with aplomb. There were multiple laugh-out-loud moments, yet most importantly there was groundwork to be laid for an office comedy with strong lead and supporting players. And, thanks to the four men in charge of Brooklyn Nine-Nine (the two in front of the camera, Schur and Goor behind it), there's every reason to believe that in plenty more humor down the tie-wearing road.
What did you think of the Brooklyn Nine-Nine premiere? Grade it now:
Matt Richenthal is the Editor in Chief of TV Fanatic. Follow him on Twitter and on Google+.