We're racing toward the finish line with only two more episodes of Dexter. TWO! With a break last week and so few remaining, it seems like this week's episode would've had more forward momentum, but no. 
It's a marathon, not a sprint?
Save for a few key scenes, "Goodbye Miami" was a slow-moving, dialogue-heavy hour of television. Come on, Dexter, pick up the pace!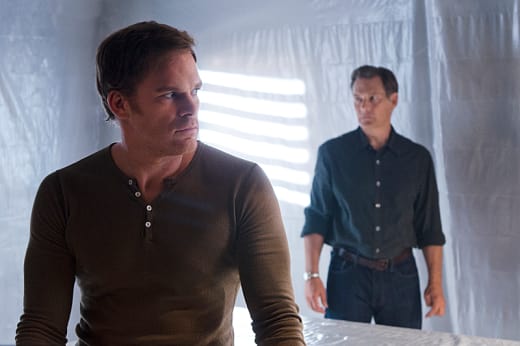 From the opening scene with Dr. Vogel and her son Daniel at the breakfast table, it was obvious that this installment would be action-light and kind of awkward - and it was. As the mother-son pair reminisced about their past, I found myself thinking "So what? Who cares? Where's Dexter?"
That's probably not what I was supposed to be thinking, you know? But there it is.
In the final season of what has been such a crazy emotional ride, I don't want to get invested in new characters, no matter how deeply their story is woven into that of the main characters. At the end of the final season? Those new faces matter even less.
Dexter was invested in Vogel and that should be enough for us as viewers, but for this viewer, it just wasn't. She filled in some of the history of his life. She was the surrogate mother he didn't know he needed. She created him. 
For all of those reasons, Vogel's death was inevitable, whether it came via Dexter's knife or someone else's. There wasn't really another end for someone whose life's work was built on the brains of serial killers she promised, and in many cases failed, to help. 
Does her death matter? Absolutely. To borrow from a favorite poem, her death will be the thing to force Dexter to his crisis. But am I sad that she's gone? Not at all.
She had to die because Dexter has to decide if he'll be able to walk away from killing people to be with Hannah and Harrison, assuming they ever make it out of the country... or if his need to be right is too great. He tried to make that choice tonight by hesitating before leaving Hannah and his inner voice, Harry, sent him on to Vogel's house. 
Was it the right call or the wrong one?
Because that's really what Dexter's killing is all about. He kills because it makes him "right," in the sense that it clears his head, that it proves he's better than those he kills and that he serves justice to those who slip through the cracks.
He thinks his love for Hannah and his desire for a life with her will be enough to overcome that urge to be right, but will it? 
One thing is clear and that's the fact that Hannah's love for Dexter is stronger than her love for herself, otherwise she never would've risked being seen to take Harrison to the hospital. (Gah! Kids! Always with the not listening!)
In the end, maybe love will be everyone's undoing. 
Hannah's love for Dexter and Harrison brought her out of hiding. Dexter's love for Hannah, Harrison and Debra will cause him to make an even more difficult choice than whether to protect Hannah and Harrison or Vogel. 
Debra's spurning of Elway's advances and his love for money will bring about the previewed airport mayhem with the Marshals and she'll have to choose between Dexter and Quinn and herself.
Maybe "Goodbye Miami" picked up just the right amount of speed to propel us across Dexter's finish line after all.
What did you think of tonight's episode of Dexter? Were you shocked by Vogel's death? What are your predictions for the remaining two episodes?
Miranda Wicker is a Staff Writer for TV Fanatic. Follow her on Twitter.