"A Trismus Story" had a lot of potential from the outset. And with only one more episode remaining this season, I expected a lot from this Royal Pains installment.
Unfortunately for the plot, there may be a lot left to resolve come Season 6.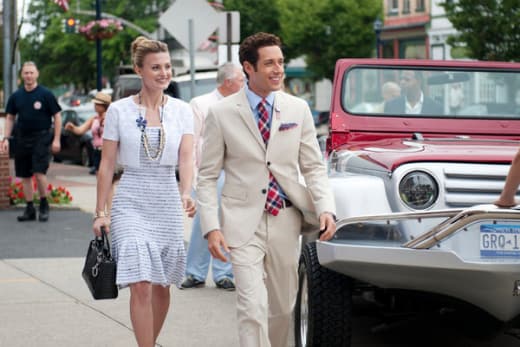 I was seriously glad to see the election plot come to a close. It's cycled in and out of the story line since early on in the season and with so little time left for resolution, they really had no choice but to have the Hamptonites cast their ballots.
Was anyone else kind of surprised that they had Evan lose the election, only to have his arch enemy Blythe Ballard force a recount of the library ballots and declare him the winner? I guess somewhere along the line the writers decided that the part where Evan and Paige's apparently null and void marriage was falling apart was a lot more interesting than having Evan have to face the fact he didn't win the election.
Quite honestly, I was a little thrown that after a two-hour Royal Pains Wedding Special they would thrown in a random clause that voided their wedding like that. Do they plan on having Evan and Paige take a break next season? The show was renewed for two seasons. It's very likely they could have planned that part of the arc to extend over both seasons. 
Then again, I really thought they had resolved Paige's jealousy issues in "Open Invitation" when they had their little chat that unwittingly revealed to Paige that Jeremiah was in love with Divya, which Divya overheard. 
That was another plot point I was expecting a heck of a lot from in this episode, especially when Divya tried to approach Hank about any recent changes in feelings towards things on Jeremiah's part. I honestly thought Jeremiah was going to sit Divya down and put his new assertive attitude to work. It was more disappointing than I thought it would be once the episode drew to a close. Then he abruptly resigned from HankMed. What a shocker.
The other true surprise was seeing Jeremiah on the verge of tears. We rarely see visible emotion from this man. The fact he not only opened up to Divya, but actually showed some real emotion spoke volumes about Jeremiah's growth since joining HankMed - if only that growth included a relationship with Divya! I won't back down on the possibility until either one of them ends up married. I just won't. It's one of the only things that keeps bringing me back to watch each week!
One thing I'm not really coming back each week for is this diluted and overdrawn addiction Hank possesses. I don't quite understand why it's seemingly becoming a federal case when no charges have been filed and it turned out that Mollie's vindictiveness is actually the function of a medical condition she was suffering from. I can't wait till she wakes up and stops being such a brat!
So much to resolve, and so little time to resolve it all in!
What do you think the Royal Pains Season 5 has in store for us?
C. Charles is a TV Fanatic Staff Writer. Follow her on Twitter.