As made clear in this Sons of Anarchy trailer, Lee Toric will play a major role on Season 6 of this FX drama.
And, as outlined to me in an exclusive interview with Donal Logue, the continued presence of this former U.S. Marshal will spell serious trouble for Jax and all of SAMCRO as episodes move along this fall.
"He's giving it more thought, he's taking a ping pong approach to how he's going after them," the actor explained of Toric's plan to bring down the club. "He puts plans A, B, C, D, E and F all into motion. This is clearly a guy with five or six hooks on the line."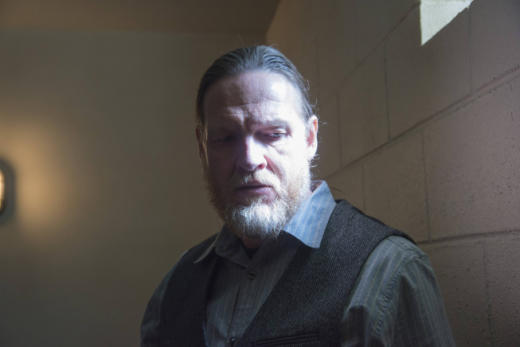 It's also a guy with a troubled past, which will be made even more evident on the Sons of Anarchy Season 6 premiere.
"There's a level of desperation to Lee that makes him different and darker than my original take on him," says Logue. "The present day Lee Toric is not the man he was before and the death of his sister makes this different than anything he's been involved in."
We'll learn that Toric often overstepped his bounds in his past occupation, using unorthodox methods but also recording more convictions than anyone in the history of his field office. Toric will interact with Tara and especially with Clay on Tuesday's premiere, but the actor teases he'll eventually cross paths with Jax and Gemma and "broaden" his attack on SAMCRO.
Citing roles in Vikings and Copper, Logue says he's "gravitated toward heavy drama" over the past few years - and this role is clearly no exception.
It was written with the star in mind, following multiple conversations with creator Kurt Sutter over the years that previously stalled because Logue had committed to pilots (that never made it to air).
"Kurt is just the most generous guy in the world… and to have someone like him write a character with you in mind, it's a great gift," Logue said. "It made it easy to step into this world."
Logue also had nothing but glowing things to say about Charlie Hunnam, laughing over whether or not there's any tension between him and his costar now the Hunnam has landed the coveted role of Christian Grey in the film Fifty Shades of Grey.
"It was a massive coup for him," said Logue. "And if someone is going to be big and successful, I'm so glad that person is someone like Charlie."
Sons of Anarchy Season 6 premieres Tuesday, September 10 at 10 p.m. on FX. Visit TV Fanatic immediately afterward for my detailed recap and review.
Matt Richenthal is the Editor in Chief of TV Fanatic. Follow him on Twitter and on Google+.