On Beauty and the Beast Season 2 Episode 4, Vincent realized that not only wasn't he invincible, he remembered why he wasn't a fireman before he became a beast.
That's right - Vincent's memories are starting to flood back thanks to unanticipated stimuli.
"Hothead" felt a lot like an episode that would have aired during Beauty and the Beast Season 1, with Gabe stepping in for Evan (gulp, I still miss him) and Tess trying to take Cat's mind off of Vincent with mind erasers and massage.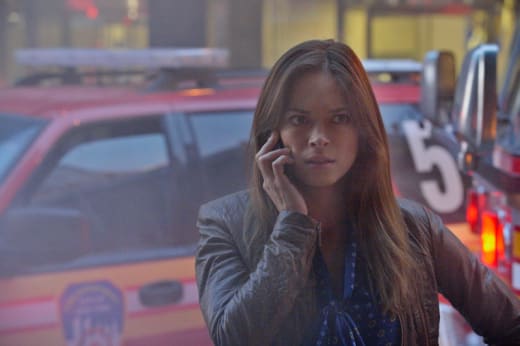 Just one memory and Vincent is completely unable to concentrate. He's begging Bob Reynolds for a new beast to hunt, but Bob's methods of searching take a lot longer than Vincent needs. Bob reminds Vincent of how important it is to keep his mind in the game, that he's a soldier - blah blah blah - but Vincent knows all of that. He wants a beast to track to take his mind off of Cat, not to be disengaged.
Things with Gabe are obviously going to come to a crazy head at come point. He's going out of his way to try to find an opportunity to kill the beast in Vincent like Cat did in him, but he's doing it while being attracted to Cat. We watched how difficult that was for Evan to deal with, and it's not going to be any easier for Gabe, no matter how honorable he's being at this point.
Tess plucking his feathers every chance she gets isn't helping, but it does make things fun. It's great to have the old Tess back, even if she has been relegated to being a side-kick for the time being. She has far more skills than that role requires, and Gabe needs to stop pushing her out just so he can have Cat time. 
That said, at least Tess is getting her fair share of air time. Who else missed J.T. this week? C'mon! Just because Vincent doesn't live with him doesn't mean he's not essential to the show. Let's get Tess and J.T. tracking down some leads. If Gabe wants Cat time, then send Tess and J.T. out on the road.
That will work for us as viewers and for Gabe to keep Cat to himself as he tries to please her by delivering Vincent on a silver platter.
It was great giving Vincent a visit by his nephew. It also made good sense with respect to the story and timeline. Families of firefighters tend to stay that way, so having Aaron follow in his father's footsteps was well done. What wasn't well done was how he didn't recognize his uncle Vincent. I do not buy for one nanosecond that Vincent's photo isn't displayed next to that of his deceased brothers all over the grandparents' house. Aaron would have recognized him immediately.
That was my one bone to pick with the episode, and it was a pretty big one. Everything else was so good, from the way Vincent's short stint as a firefighter was explained to his quick kiss with Cat before he ran into a burning building to try to find Aaron and Cat and Vincent coming together again at the end realizing they can't stay apart, no matter what he remembers.
When they stood in front of the 9/11 Memorial, Vincent said "My brothers here." Cat's reply was, "They're heroes." It was difficult not to get teary in that moment. As Vincent remembers so little, one of the things he does remember is that he had brothers, loved them so much and then how he lost them. Visiting where they last stood with Cat was a beautiful way to acknowledge his growing memories.
It's obvious Bob Reynolds is going to get less accommodating as Vincent gains more memories. I hope he doesn't think it's a good idea to try to erase his memories again. Once was enough. He can't keep messing with Vincent's life - and certainly not his daughter's.
I have to wonder what he feels being so close to her. Does he have any desire to know her, especially since the man she knew as her dad has died? Now that Heather is gone, there is nothing keeping him from a proper introduction. What will she do if she puts it all together - who he is and his relationship to Vincent - before he gets a chance to make clear who he is? She forgave her mother for her involvement in the creation of beasts, would she do the same for Bob Reynolds?
This week felt like things took a turn for the better. There is less anxiety and antagonism between the characters. Gabe's a wild card with his feelings for Cat, but we've had that before in Evan. Bring J.T. back into the fold and I'll be happy.
What did you think about this week's episode? Did you enjoy meeting another Keller? Do you think Gabe will eventually change his mind about helping Cat reunite with Vincent?
Carissa Pavlica is the managing editor and a staff writer for TV Fanatic. She's a member of the Broadcast Television Journalists Association (BTJA), enjoys mentoring writers, wine, and passionately discussing the nuances of television. Follow her on Twitter and email her here at TV Fanatic.