"Get a Clue" was a classic Castle episode. It featured an occult style murder, a felonious monk and even a sword fight thrown in. But it was the very end that took away some of the fun.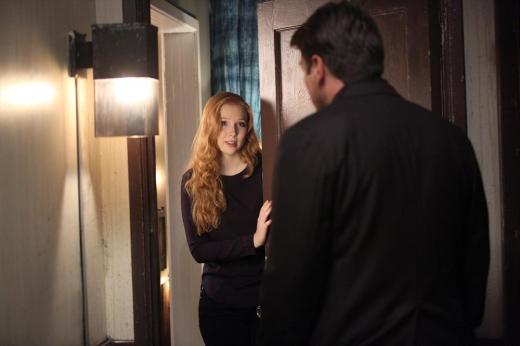 Let's review some of the most entertaining moments first. 
The murder of Susanna Richland was pretty awesome mystery. Why would an accountant end up with stigmata type wounds and a sword stabbed through her throat? Add in some religious icons, pagan symbols, the Freemasons and a treasure hunt and you've got the makings for vintage Castle.
Castle and Beckett were at their best with lots of good natured joking along the way. When Beckett started weaving a crazy theory, Castle looked confused…
Castle: What are you doing?
Beckett: Making stuff up. Just like you do.
He was so completely appalled. She's Beckett. Her role is to follow the evidence. She's the yin to his yang and now she was messing with the natural order of things. 
And is there really a blacksmith shop still in existence in NYC or is that just creative license? I may need to go look that one up. 
The sword fight was epic. Looked like all of those fencing duels with Alexis finally paid off. Still I was grateful to find out they were stunt swords. Thinking they were real made that scene much scarier. 
I also really loved the Raiders of the Lost Ark moment when Castle grabbed the bag of half-dimes and the door shut behind them. But on the flip side, I had a little trouble believing that no curious kid ever stuck their hand through that hole in lthe ast couple of hundred years. 
But it all led to one of my favorite Castle quotes…
This is not my idea of going to the chapel with you.
We definitely all expect a lot more romance and a lot less dust when that day finally happens. 
As for the killer, I expected it to be the director, Nolan Burns, until he mentioned the family connection. Then it was obvious it was Henry. Sometimes family just can't be trusted.
Esposito and Ryan also had some great moments. How funny was Ryan as he tried to shake the filth off his hand after he touched that banister, followed by him muttering…
This place, you can get hepatitis just breathing the air.

Ryan
I always love watching Espo and Ryan work as a team as they go through the door during a takedown. I sincerely hope that one day we'll see a spinoff with these two detectives.
And I couldn't help but laugh a bit when Beckett told Ryan to impress her and he groused…
You know, there are times I wish she'd stayed in D.C.

Ryan
We all know he didn't mean it but Beckett was giving the surveillance genius an impossible task, and of course he came through. 
However, I was disappointed when Beckett sent Javier down to the morgue. I really got my hopes up that we'd get a substantial scene between he and Lanie. Are they lovers? Ex-lovers? Friends with benefits? At this point we really have no idea and this scene told us nothing. Felt like quite the missed opportunity to give the audience some information concerning one of our favorite couples. 
Finally we get to Alexis.
Sigh…
I've always loved Alexis. The father/daughter relationship on Castle has been one of the highlights of this show since the pilot. So now that we're up to Castle Season 6 Episode 6, it's hard to see that bond beginning to fray.
First, I'll acknowledge that even the strongest relationships have their rough patches and Castle and Alexis are no exception. Is this rift uncomfortable? Yes. Is it realistic? Also, yes.
Was Castle less than gracious at their dinner? He could have done a better job of hiding his displeasure but what father is happy that their 19 year old daughter has moved in with a guy…any guy?
That said, Alexis is old enough to make her own decisions and that includes choosing her own relationships. 
OK, that's the rational side of my brain. Now on to my rant…
She wouldn't let her father in the door!?! Are you kidding me? He came there to apologize and talk things out and she made him stand in the hall!
Then she brought up that she learned about her father's engagement through her grandmother. Well, I love Martha but perhaps she should have kept her mouth shut until Castle had the chance to share the news with his only daughter. And Alexis being hurt over that slight would have played better if we had seen any hint of it over the first five episodes of Castle season 6. 
She went on to compare her two month relationship with Pi to Castle's five-year relationship with Beckett. Being that she's looking at things from a 19-year old's perspective I suppose I can let that one slide.
But it's not as though Alexis has always welcomed Kate with open arms. Seems to me there were a few times she was more than a little cool towards her father's muse. Alexis felt she had her reasons then as Castle certainly does now for disliking Pi.
When Alexis turned down her father's offer for ice cream and shut the door in his face, I have to admit I felt like I was done. 
Alexis speech about acceptance would have carried a lot more weight if she would have shown a little bit of kindness towards her dad. The entire exchange made Castle's once extraordinary daughter look like an insolent, spoiled brat.
More than angry, it made me sad. Almost as sad as Castle. I'm hoping to see some glimpse of the old Alexis on Castle Season 6 Episode 7 (previewed below.)
So can Alexis Castle be saved in the eyes of fans or is it simply too late?
C. Orlando is a TV Fanatic Staff Writer. Follow her on Twitter.