It took a few episodes, but "Defcon 1" is beginning to bring together all of the elements that made Chicago Fire Season 1 so exceptional.
I've had plenty of issues with Gail threatening to shut down Station 51, but even if those threats are just one giant obstacle for the house to overcome, it's enjoyable to watch the drama that unfolds. Every single act of general human decency is on her list of faults that shows why the station should be shuttered.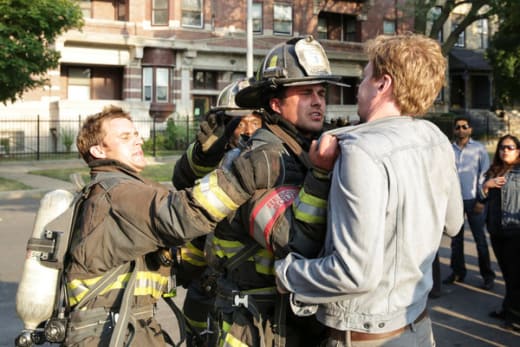 Casey cannot take off for a half hour to make sure the kids are okay, nor can Otis cough up some cinnamon. What fun is Station 51 if Casey can't be the knight and Otis can't do something dumb? Gail is gutting the house with surgical precision and it's time for the men and women to fight back.
Hermann is a definite step up this season. He's more courageous and more willing to speak his mind. I'm glad he decided to call out Clarke's snitching in front of the entire house. Even with all of Clarke's tattling to Gail, I still want to learn more about him.
Hadley is proving to be one smart arsonist, but I wish Severide wasn't so willing to let Hadley play him like a puppet. Severide isn't the type of person to hold back often, but this was one of those times. His interfering only slows down the investigation, emboldening Hadley more. With the man filming the altercation on his phone, Hadley might even be in the clear for a little while longer.
Cruz and Otis' competition for the third room in Shay and Severide's apartment is just a cover for what's really going on with them: loneliness. Otis mostly sticks with his podcast and Cruz is the typical nice guy who finishes last. Cruz worked so hard just trying to chat with Molly's bartender only to have Severide come along in his cool car and whisk her away.
This season is doing a wonderful job of spinning previously put to rest stories and working them into the newer ones. Arthur, a man thought to be enjoying his 1% of the money, wants a new deal. Either because he wants to squeeze more money out of Molly's before the place goes broke or he's hoping the bar will turn around to make him more cash. Both situations are beneficial for him, but Jay being his lackey never crossed my mind.
I assumed Jay was casing the place for himself and was waiting for a better time to clean it out. Jay being with Arthur gives him a little bit of an out. Arthur is a complete scumbag, and Jay's showing of (some) remorse after Arthur outs him is at least somewhat reassuring that he might be a decent guy in a bad situation.
Or, at least I hope so; I don't want Dawson to go through more heartache. I'm still very much sailing on Dawson and Casey's potential relationship after watching Dawson save Casey in the principal's office.
Casey is beginning to make some progress with Heather's children. I can't blame the boys for acting out, like Gabby says their mother's in jail, their father was killed and now Casey has to step in the best he can. Their lives are chaotic and they were just bracing themselves for the next round thinking Casey would give up.
I am worried about Casey's future, though. He falls hard, and, as Hallie's death showed, he mourns harder. When Heather gets out, it's probable that he's going to be very attached to the boys.