"The Inspired" featured a wholesome and pleasant family portrait...  if the Addams Family is your thing, that is.
Breen Frazier (who wrote this Criminal Minds episode) served up the second half of a gruesome and utterly lovely story, one that featured a family who put the "diss" in "dysfunction." There was a mother who was a vindictive narcissist and a pair of psychopathic twins - one delusional and one vindictive - along with a schizophrenic father.  The dad in this story was by comparison a ray of sunshine:
Morgan: We're looking for a Mr. Bill Robbins.
Robbins: The sun and the moon have arrived. I'm ready to join you in your golden chariot.
Reid: We'd like to ask you a few questions, if you have a moment?
Robbins: Yes. Yes, yes, yes, yes, yes yes! My life is the answer to your questions. | permalink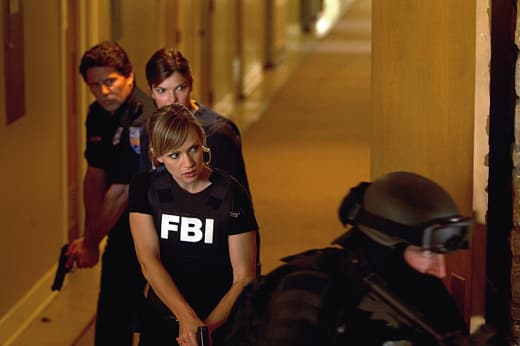 You get the sense that, as the BAU peeled back the layers of intent from the onion of this family, they found themselves sinking deeper and deeper into a quicksand of madness. 
Wallace was the Unsub responsible for making all of those women eat part of the head of his first victim last week before raping and killing them; his brother Jesse had been adopted out and was feeling a tad bit slighted by his mother, at least enough to perhaps kill her and his brother, and their mother wanted one of them to kill the other, just so that she could feel good about being a mom again. The mind boggles.
I was pretty sure the madness parade had come full circle when Carla Hines hugged Wallace and assured him she loved him and said I could just eat you up.
The ending was insane. First of all... a church? What a perfect place to end the family drama. Secondly, there was the struggle with the gun by two guys who no one could tell apart. In fact, throughout the episode the only physical way to tell Wallace and Jesse apart was that the latter wore a baseball cap. Oh, and one had a twitchy hand - but the only ones who knew about that was their father, presumably their mother. 
But the BAU didn't - and so we had the classic "who is who?" question as the team came in and tried to figure out which brother had killed the other. Even the viewers didn't know because by then the cap was off and both mom and son were going to lawyer up.
Interesting that the BAU was facing a massive lawsuit for arresting the wrong guy in the first place - yet they didn't let that rattle them. It simply was of no consequence, probably because none of them were all that concerned about the public perception of their team. Such a PR headache would belong to an FBI Section Chief and that's where Hotch doesn't shine at all. He's not an FBI spin doctor; he's a field man, period. Which, of course, was confirmed at the end of the episode when he let Rossi know that the powers-that-be had withdrawn their offer. 
The dual performance by Fred Koehler as Wallace and Jesse was brilliant: both of his distinct and different characters were believable and fun to watch, especially when they were interacting with each other. One was clearly out of control and emotional and the other was menacing and organized.
The casting of John Michael Herndon as Bill Robbins - the twins' father - was a good choice as well: his innocent, bright and delusional dialogue with Reid and Morgan was engaging and fun. You could forget for a moment that his mental state meant that he lived in a sad squalor, likely because he had little perception of his actual surroundings. 
A final note: the bookend Criminal Minds quotes provided at the start and end of each week's episode - delivered by members of the BAU - are usually appropriate to the story. This week's final quote, provided by Hotch, went a little ways beyond merely appropriate; it pretty much nailed it:
They mess you up, your mom and dad. They may not mean to, but they do. They fill you with the faults they had, and add some extra, just for you - Philip Larkin. | permalink
(By the way, the actual quote by Larkin doesn't use the word "mess." It's actually one of the seven dirty words George Carlin said could never be used on television. The entire poem is worth reading.)
What did you think of this week's episode and of the two-episode story in general? Do you think Hotch would have made a good Section Chief? 
A final question: do you think Reid was the sun and Morgan the moon? Or was it the other way around?
Douglas Wolfe was a staff writer for TV Fanatic. He retired in 2016. Follow him on Twitter
.