Haven Preview: Kate Kelton Teases Romance, Jordan's Quest To End The Troubles
Jim Halterman at . Comments
When we last talked to Kate Kelton about her return to Haven Season 4 and the role of Jordan McKee, she filled us in on how her Troubled character (and fan favorite) escaped death in last season's finale.
But now that we're a few episodes in, much has happened, the biggest being that Audrey (Emily Rose) is finally on a quest to get back to Haven (as well as regain her memory) with the help of guest star Colin Ferguson. And then, of course, Jordan is hell-bent on getting The Troubles gone for good and seems poised to do whatever it takes to make that a reality.
I recently sat down with Kelton, who gave me an idea of what's next including some hot and heavy action and, of course, she teased some big surprises coming up.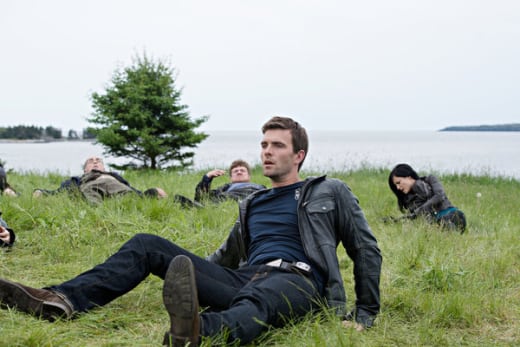 TV Fanatic: Jordan seems as though she's getting more desperate (or anxious) for The Troubles to be gone. Can we expect her to take some proactive steps?
Kate Kelton: YUP!! #spoiler alert, spoiler alert! ;}
TVF: Some of Jordan's dialogue in last week's episode could make it seem she might have a death wish because of The Troubles. True?
KK: True. Wouldn't you? Hahaha!
TVF: Safe to assume Jordan will not be thrilled to see Audrey when she turns back up in Haven?
KK: Well, not too sure about that since her return COULD signify the end of the Troubles, right?...but there is definitely a Jordan twitch, I'm sure, whenever she hears the name.
TVF: Jordan is often emotionally closed off as far as getting close to people but will that continue?
KK: You know, there are a couple of interactions that I've had with Nathan (Luke Bryant), that do actually breach the walls that she's put up, and there are moments between them where they sort of have this understanding and they come to understand what each of them is fighting for, and that it's actually not that different, right? I couldn't tease all of that just yet, but yeah, there's some good stuff there.
TVF: What do you hear from fans since sci-fi fans like their couples together and Jordan is there with Nathan when Audrey is not…
KK: I definitely got some of that because I was definitely intruding on a major ship, and as a fan of the show, the worst part for me, personally, obviously, is that I actually support that ship, too. But what I have noticed is that there was an interesting Tumblr post the other day that somebody had posted about the fact that Jordan's character is actually one of the most sympathetic on the show, and she doesn't understand why people aren't seeing that, in terms of Jordan getting the short end of the stick and really just fighting for what the rest of them are fighting for, to end the Troubles, right?
Ultimately, there's been this strange sympathy mixed into the more obvious 'get away from Nathan and stop interrupting the moments he and Audrey have.' But, yeah, that's been pretty surprising, because I know that I read the script sometimes, and I want to bash Jordan in the face.
TVF: Can you talk about how long you're sticking around in Haven?
KK: I can't. I did some stuff, some good stuff. I can tease that there's even a little bit of romance coming up. I can't tease with who, but there's some juicy moments. There's a little bit of some fun stuff, yeah.
TVF: Do you get to do a love scene?
KK: Yes. Yes.
TVF: Do we see some skin?
KK: Yes-ish, kind of. Yes-ish.
TVF: For Jordan, any kind of exposed skin is a big deal, I suppose, right?
TVF: Any preview you can give of what we'll see in this week's episode ("Lost And Found")?
KK: This week's episode will blow people's minds!!
Haven airs at 9 p.m. on Fridays on SyFy.
Jim Halterman is the West Coast Editor of TV Fanatic and the owner of JimHalterman.com. Follow him on Twitter.