How I Met Your Mother Review: Accept the Comfort

Chris O'Hara at .
With just two days until the wedding, Ted found himself in an awkward position, as he tried to explain to Barney why he was seen holding Robin's hand back at the carousel. Despite the tense air surrounding the two long time friends, "The Broken Code" delivered the best How I Met Your Mother episode of the season. 
Barney and Ted shared a good cry over the broken bottle of scotch, yet behind those tears lay Barney's bubbled resentment. If it wasn't clear how Barney was feeling after the first time he asked Ted to redo the table cards, it should have been pretty obvious after the second and third requests. Barney's "hey buddy" was reminiscent of Bill Lumbergh's "Hey Peter what's happening" from Office Space. The parallel was furthered when Barney asked Ted to give up his room for the folding cot in the basement. A move which brought to mind Milton Waddams being asked to move his desk down to the storage room.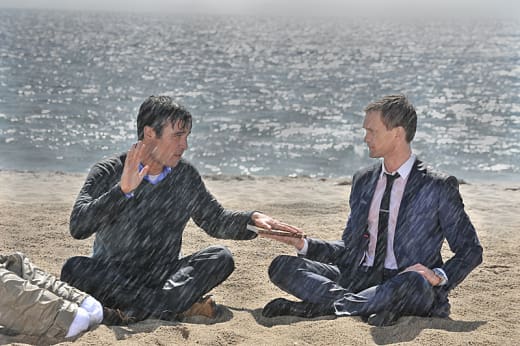 Ted wasn't about to take his stapler and go home, though, as he continued to cater to Barney's every whim, no doubt out of guilt for his actions and not just to be a great Best Man. When Ted walked in on the poker game to find he had been replaced by Billy Zabka, the jig was up. 
Ted: Billy Zabka's your new best man?
Barney: He's the best, around. Sorry Ted, maybe next wedding. | permalink
Ted: So, you are mad about me and Robin holding hands.
Barney: Of course I'm mad Ted. Holding hands is like the fourth grade equivalent of banging. Well in your case, twelfth grade. Self five! | permalink
Enter the honorable Marshall Eriksen, or Marsh-pillow 2.0. Marshall weighed in remotely with his bro-pinion as to whether or not The Bro Code had been broken by Ted. Marshall's wifi wisdom was spot on as it pertained to the sacred text, the history of which was made even more epic by the latest installment, in a long line of hilarious fake history lessons from Barney.
While the men held court and hands on the beach, Lily challenged Robin to explain her inability to befriend other women. I'm not sure why Lily was so mystified by Robin's lack of female friends, especially since she is well aware of how Robin was raised. Regardless, her attempt to find a woman in the hotel bar for Robin to try and talk to was my favorite scene of the episode. 
Lily: Prove to me you can make a female friend. What about her?
Robin: Ugh the girl with the bangs? Any chick who does that to her hair is going through a big life transition I don't want to hear about. Next time grow your bangs long enough to cover your mouth. I'll pass.
Lily: Ok well what about her?
Robin: Ugh, comfortable shoes? What are you filibustering later? It's after five, put on some heels. I'll pass. | permalink
Further proof of how good an episode we were treated to was how guest stars Tim Gunn and Bill Zabka just blended into the progression of scenes. Their performances weren't particularly memorable or flawed, but more importantly they weren't a distraction from the main issues at hand.
There were a few notable moments mixed in with the two major story lines though that I loved:
Marshall noting how Ted didn't go to his prom, "classic." 
Barney referencing Joe Esposito's hit "You're the Best Around."
Ranjit telling Marshall, "You're bluffing robot man." 
While I can't wait for the wedding day to arrive, if waiting a couple more weeks means more episodes like this one, I won't be too upset. What did you think?