The Blacklist Cast Previews "Dark Episode," Its Very Own "Horror Movie"
Jim Halterman at .
Be wary, viewers of The Blacklist, and watch out for The Stewmaker tonight.
The NBC drama, which recently was picked up for a full season of 22 episodes, airs an especially interesting and intense installment this evening, one that gets to the heart of many pressing questions:
Why does Reddington want to be close to Keen? How is he tied to her past? Could they be related in some way? What is Red's own agenda with his 'blacklist?'
TV Fanatic was on The Blacklist set in New York City last week received the following warning/tease from star Megan Boone in regard to The Stewmaker: ""It's our horror movie."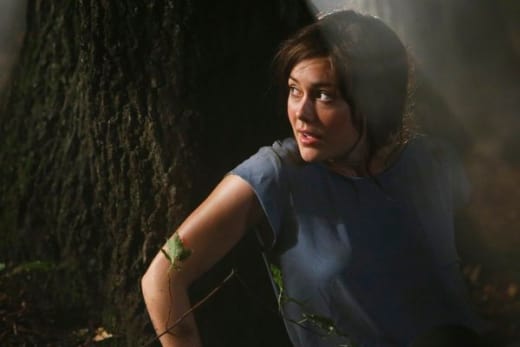 Boone explained that the episode begins when Keen "[gets] caught up in this terrible case where the defendant is a mass murderer and kills anybody who has information on him, so he ends up having me kidnapped."
Enter The Stewmaker, played chillingly by veteran actor Tom Noonan (Louis, Hell On Wheels), who, Boone previewed, "essentially is hired by people who want to kill and have no remains of the victims and he boils them down to nothing with chemicals."
While Keen is in the hands of The Stewmaker, watch for some reveals about just how much Red cares about the young agent, while he also offers up a clue from his page. "With this episode," Boone said, "you see him open up and you see a vulnerability and there's a hint to his past and there's a hint as to why he is who he is now and why he has chosen  the kind of lifestyle and the way of living that he has chosen."
One might think that now that Keen has spent some time with Reddington she may actually start to like him. He has, in his own way, helped bring down some pretty bad guys, right?
But Boone shook her head at this notion: "He's a very dangerous man. There's no trusting him. I think there is negotiating dynamic with him and always, always, always being cognizant of the fact that he is not safe."
And while we may not get all the answers we're looking for in the Red/Keen relationship tonight, Boone said "we get a deeper sense of [Red's] commitment to her and you get a sense, in James' performance and in the scenes, a deeper love for her. It's more than just a desire to psychologically manipulate her. There's an undercurrent there so there's definitely a clue, a hint."
Parminder Nagra, who joined the cast post-pilot as CIA agent Meera Malik, admitted that even she got caught up in the darkness of the episode. "Just being in the scenes it looked pretty creepy," she said, "because of who this person is and how he thinks about things and how he deals with people then how he deals with her specifically."
We'll also see a new side to the relationship between Keen and FBI special agent Donald Ressler, played by Diego Klattenhoff. So far, Ressler has been more than a little hostile towards Keen since she's the new kid on the block, thrust into a very important position that he feels entitled to hold.
However, in tonight's episode, the actor explained, "the relationship is part of us as people but also one FBI agent looking out for another one and looking after our own and it all kind of goes out the window when she gets kidnapped." 
With everything regarding The Stewmaker taking place, what about the mystery about whether Keen can trust her husband, Tom, played by Ryan Eggold?
In last week's episode she used the gun she thought to be his to gather some evidence on her man. Where might things go from there?
"She gets the results back from that test," Eggold told me. "She finds out details about the bullet and his gun and, perhaps, Tom Keen…she basically finds out the exact event – time, place, person – that this gun was used on. It's just another piece of the puzzle to throw in there."
At the center of much of the action is James Spader himself, who has created yet another memorable character in Red Reddington. Even the cast surrounding him seemed a bit in awe of the actor. "What can I say?" said Harry Lennix, who plays FBI Asst. Director Harold Cooper in the series. "It's like being on a team and LeBron James is on the team…we have a good team and Spader is clearly the Captain of it and he does a great job. He knows how to run the show and he sure as hell can act! I have as much fun watching him as anybody."
The cast seemed to be on the same page feeling that tonight's episode will do what good TV should do: leave you wanting more. Nagra hinted: "I think it's going to leave an audience going 'Okay, I want to get to the next episode because I need the next question answered…I think that's a good thing."
Klattenhoff added: "It's a real dark episode. I think people are really going to enjoy it. It's going to push the pedal down a little further and give people what they're looking for. It definitely makes your heart beat faster."
The Blacklist airs Mondays at 10 p.m. on NBC.
Jim Halterman is the West Coast Editor of TV Fanatic and the owner of JimHalterman.com. Follow him on Twitter.