Grey's Anatomy Review: Nothing's Wrong

Christina Tran at . Updated at .
While last week's Grey's Anatomy Season 10 Episode 9 was intense and kept me on the edge of my seat, "Somebody that I Used to Know" fell more on the lighthearted side of things.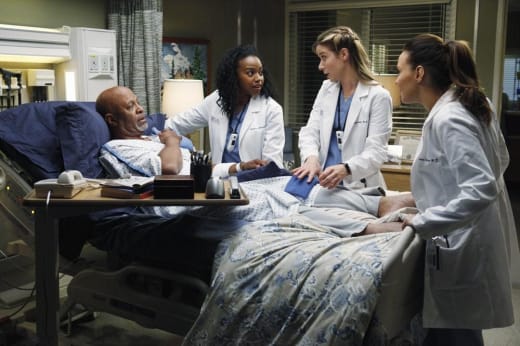 Although I'm a huge fan of character-centric episodes, I was glad things were back to normal with drama at the hospital and especially in our favorite doctors' personal lives. Basically, it felt like classic Grey's. A whole lot happened and it all made for yet another memorable Thursday night.   
I laughed a ton, as there were quite a few hilarious lines and even started to miss Cristina already as she delivered some of the funniest ones. Be sure to check out the Grey's Anatomy quotes section to rehash some of her awesome quips.
A major OMG moment was when Shane stood up to Meredith for Cristina. I was totally surprised that Cristina didn't have a single word to say. To me, Shane was out of line and Cristina should have done the talking. I found it hard to believe that she didn't open her mouth once after everything that Meredith had said. 
In the final scene, it was obvious that Derek was over the besties' drama. As he rolled his eyes, I also found myself tired of both of them using the interns as their lackeys, their lack of communication and how immature they both could be at times.
Seriously, Meredith should have just gone to the board when push came to shove.
Also, maybe Cristina should just realize that she cannot "walk on water" every single time. All in all, I get that the gap between these two is as wide open as can be, but it would certainly be a shame not seeing them make up before Cristina makes her exit at the end of the season.
Calzona fans were probably jumping for joy as the two are going to give it another shot. This was after Callie found out that Arizona was with Leah while they were separated and also followed Arizona saying that she's tired of Callie always playing the victim. I used to really love Arizona and I just don't care for her anymore. Callie deserves so much better.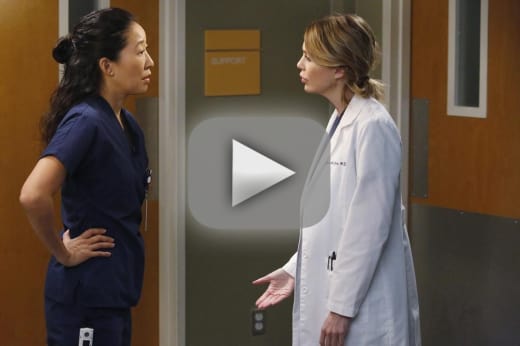 Meanwhile, I am really glad Ben is back whether Bailey likes it or not. Something is definitely up with her and it's a good thing that he confided in Derek. I also thought that McDreamy did the right thing in letting Owen know about Bailey's issue. She shouldn't be operating, and I'm worried about her. Is it really just OCD?
Elsewhere, it's hard to believe that the Mapril wedding is going to happen as there was certainly still some spark with Japril. However, Jackson was convincing when he told Stephanie that he and April were over but it would always be awkward.
Other thoughts:
I was disappointed when Cristina kissed Shane. I'm hoping nothing else happens between these two moving forward. News flash to the writers: not every intern ought to be with their mentor.
I really thought we were going to get to catch at least one scene of the planned Thanksgiving dinner. Call me crazy, but I was curious to see if Emma and Owen were going to be able to pull off making dinner.
Fun fact: Debbie Allen, who plays Catherine Avery, directed this installment.
Don't forget to return next week to chime in on our Grey's Anatomy Round Table.
Overall, I thought Grey's Anatomy Season 10 Episode 10 was strong and had a bit of everything from the serious stuff to the crazy drama.
Also, it honestly made me ready for Thanksgiving. This was mainly thanks to Richard's mentions of stuffing, biscuits and everything else. Thanks a lot, Richard!