Can love survive in the class system of an office building?
That's the basic idea behind TBS's new sitcom, Ground Floor, which comes from the mind of the man behind Cougar Town and Scrubs, Bill Lawrence.
In the series, Brody (Skylar Astin) is an up and coming Ivy League-educated businessman living to make his self-made, regimented boss Remington Stewart Mansfield (John C. McGinley) happy when he falls for Jenny (Briga Heelan), who is the more working class boss of the ground floor building support team.
The two floors generally don't mingle but love may change all that.
Astin, who rose to fame on Broadway alongside Lea Michele and Jonathan Groff in Spring Awakening and then on the big screen in last year's hit Pitch Perfect, jumped on the phone earlier this week to talk to me about the new series, working with comedy powerhouse McGinley and when we might be seeing the much-anticipated Pitch Perfect sequel.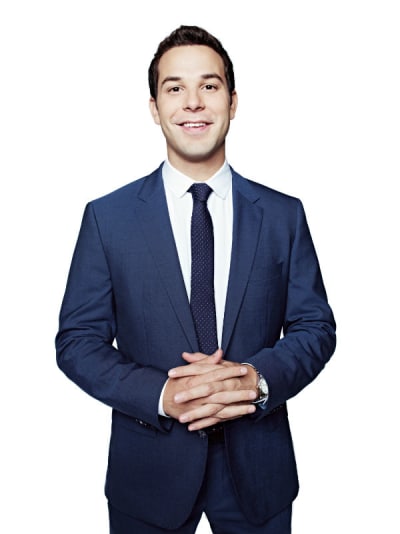 TV Fanatic: First off, tell me how Ground Floor came about for you?
Skylar Astin: I was up for another of Bill's shows and I think he had this in mind the second I walked in the room so I got an offer not too long after that for Ground Floor. It took me about a day to respond because I just needed to read it because I already knew I'd want to do it when Bill Lawrence came knocking on my door and I'm not going to say no to Bill. Thank God that the show is as funny as it is. It made me laugh out loud more than once while I was reading just the pilot.
TVF: It's also a really strong ensemble and you've worked in that environment before. How was it connecting with everyone?
SA: It's so great because I think if they only focused on the love story and didn't focus on the father figure relationship with John [as Mansfield] or the bromance with Rene [Gube, who plays Mike], I think that we could get in a corner where they fight and make up, they fight and make up. We have really found such a wonderful dynamic and even past [the pilot] we've now introduced pretty much every character to every character and it's funny to see every dynamic.
I really knew that this show needed a good cast…John C. McGinley was already cast before I was so I knew we were headed in the perfect direction and I love it, I knew I would and my expectations are surpassed. I love this group and I miss it actually because we finished [filming] season one a week ago.
TVF: Will Mansfield be trying to break Brody and Jenny up to keep your attention on work or is it going to go in a different direction?
SA: I don't want to give too much away but his opinion evolves just like mine does, like Briga's does. [Mansfield is] a father figure for Brody and while he is a stern boss he does consider Brody a son and vice versa so I think he's very intimidated by it and he has his opinions on it but he sometimes can't help himself but to get involved.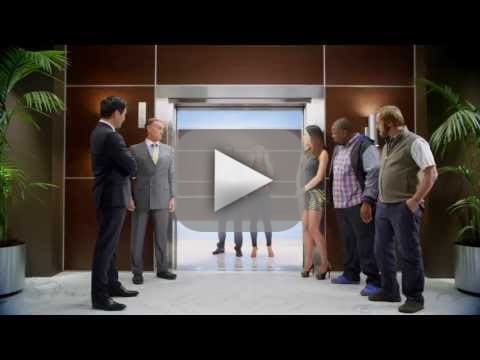 TVF: How has it been working with John? I've talked to him before and he's a bundle of energy!
SA: He's amazing! He is a fast ball. He is just so prepared and so professional. At first, I couldn't get it out of my head that I was working with Dr. Cox (McGinley's role in Scrubs) but now he's become a buddy!  The whole cast went on a bit of a field trip to San Francisco to do some press and we were hanging out and he's just an amazing guy. And his stories are incredible. He's worked with everyone.
TVF: The romance is part of the foundation of the show so how have you and Briga approached that?
SA: Briga is such a cool girl. She's really down to earth. There are certain things we talk about and then things that just go unsaid when it comes to Brody and Jenny. We've found them individually and we've found them together. The writing speaks for itself but I think she's so dynamite and we approach things similarly. We both have a theater background, we're always grounded in reality and Brody and Jenny's relationship has evolved so much so at the end of season one they're making real couple decisions and we both took it really seriously. There's humor with it but we were really acting. It's a pleasure to work with her.
TVF: Looking at your background, even before Spring Awakening, was this always your path? What if performing hadn't work out?
SA: Oh my gosh, I don't even know! [laughs] Thankfully, I started pretty young and it's worked out quickly. I took a leave of absence from NYU and then, thank God, Spring Awakening happened when it did and basically everything has led me to where I am now and I'm very grateful.
TVF: Everyone's going to want to know when Pitch Perfect 2 is coming about? Soon or is it a ways off?
SA: I don't know! I think that it's being written now and I don't have too much to report. They've kept the cast in the dark because maybe they don't know exactly how we're all going to be used yet. I'm disappointed in it, too! I wish it wasn't the case. I wish I knew more!
TVF: Lastly, TBS has really been getting aggressive with building the comedy lineup. How has it been being at TBS?
SA: They are unbelievable. From whatever I've heard about certain networks, they do not follow that model. They are so supportive, they use their time and their money wisely, they never have too harsh critiques of our storylines and they really stay out of the way when they need to and they really get involved when they need to.
Ground Floor premieres tonight at 10 p.m. with two back-to-back episodes on TBS. 
Jim Halterman is the West Coast Editor of TV Fanatic and the owner of JimHalterman.com. Follow him on Twitter.