Hart of Dixie Review: In a Jam
Kate Brooks at . Updated at .
Linley and angry Lavon? It's safe to say Hart of Dixie Season 3 Episode 7 was, unfortunately, centered around two of my least favorite things in Bluebell.
Even though Joel was kidding, George and Linley were outed, while Lavon was worried he wasn't going to win the race; in the end it wasn't those three in the biggest jam, though, it was Brick with the return of a very pregnant Shelby.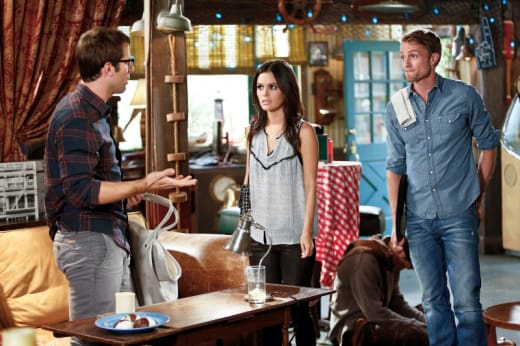 I had no interest in this hour due to the excess amounts of Linley and George. I am still so very disappointed in him and his actions. Every time these two on screen, I look away. It isn't fun or enjoyable for me.
At least Lavon knows now and didn't like finding out about his "sweet little cousin" being taken "advantage" of by George, even though it was Linley who made the first move.
The best part of the episode was the "Jam" argument between Annabeth and Lavon. "If you don't like my Jam" ... "Maybe the Jam was meant to go to the next level" ... "Everything was going fine until you brought you Jam around!"
Next to Lavon being incredibly naive, he is incredibly stupid. Him and AB need to be together - they make each other better and, quite frankly, he can't do much better. Taking it slow? Fine, I'll be okay with this for now... but she deserves better!
Also, how luscious did George's hair look while he was running? That footage could have easily been used in a hair product commercial. But the guy needs a haircut.
Elsewhere, Joel was in his own kind of jam, having issues with writer's block, with Zoe pushing and pushing and pushing some more to get him to write. A little bit controlling, wouldn't you say?
Then Jo-el was kidnapped causing Wade and Zoe to have to team up to get him back. The point of this scene was to show us viewers that these two are so good for each other. I truly love "Zade" and I hope we get them again soon.
Dare I say, I've forgiven Wade for his cheating debacle back in Hart of Dixie Season 2.
Overall, this was a decent episode due to the comedic bits but a terrible one due to the new George and Linley relationship. I don't think I'll ever love Linley but it looks like I'm going to have to get used to her.