Hawaii Five-0 Review: Reluctant Partner
Jim Halterman at . Updated at .
After last week's 'Three Men And A Baby' nod, it was time to get back to true H50 form and Hawaii Five-0 Season 4 Episode 8 delivered tenfold. 
We open in Tokyo where a man is giving his wife a lovely necklace but then...he disappears. Smash cut to him being seated in a room with a quartet of hooded bad guys...or are they? One by one taking off their hoods, it's McGarrett, Chin Ho, Catherine and...Kono! (Yay! Grace Park returns...well, for half a second she does). The man, who they believe has Kono's love, Adam, in his possession, tells them that Adam's death has been faked but only so he can live. No big surprise that Kono is not going to let it go and says goodbye to Chin once again to go search for Adam. It was definitely nice to see the team together even for the quick opening to the show but at least Kono's story thread continues.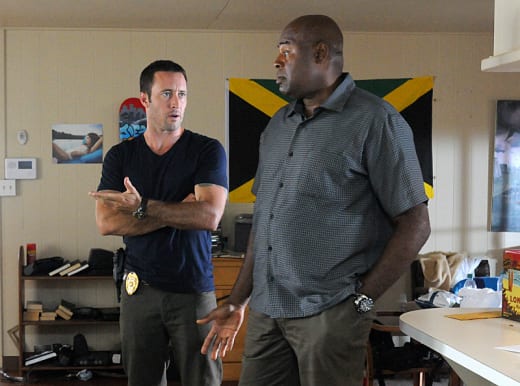 But, because I can practically hear you asking, where is Nick Jonas, who, yes, is guesting in this episode? (You saw my interview with him from when I was on set for the shooting of this episode, right?) Don't worry...he's coming.
The gang returns and we find out Danny is away (no Scott Caan in this episode but, come on, we get a Jonas brother...good trade or not so much?). Steve gets called in by the Governor and is off.
But, first, we visit a new place - Grover's home where his teenager daughter is doing some 'I'll show you mine if you show me yours" with a teen boy via video cam. Grover steps in, stops that and takes her laptop from her. What's a father to do? 
At the Governor's mansion, we get to see what McGarrett and Grover do best together at this point - bitch each other out. But the Governor has called them together to, first, rip up Grover's complaint on 5-0 for being too reckless and to have the boys work together and get along. First task - issue a summons for unpaid parking tickets to some 21-yr old named Ian Wright (played by...guess who?)
The guys show up (separately since they refused to ride together) and Ian's house seems empty until they hear gunshots -- but, calm down, it's from the videogame, Halo. The guys tell Ian he's to come with him for his unpaid parking tickets, we take a moment for some shirtless Nick Jonas and just as they're about to leave with him there is massive gunfire on the house. Steve is hit in the arm and he and Grover manage to stop some of the guys while the others take off with Ian. And, since the bad guys shot out their tires, they're stranded...and in a place with no cell service.
Utilizing Ian's kitchen, Steve fingerprints one of the now-dead bad guys with a makeshift kit while Grover mixes what looks like cayenne pepper, honey and flour for something to put over Steve's wounds. (Yep, we're starting to see these guys are good together). They set off on foot to get help with McGarrett saying he's done some research into Grover's past and knows he missed out on a Superintendent job and is now relocated to Hawaii but before things go deeper, they find the abandoned getaway vehicle -- and they find clues that tell them that these guys are also bank robbers. The bad guys zip by them in another vehicle and, McG and Grover do what we'd expect - they find horses and take off in hot pursuit! But, after a fun chase sequence, they fail to stop the baddies after all.
Back to 5-0 offices for exposition time and we find the first clue that Ian is more involved than originally thought. In fact, he may be the mastermind to some big things. International things! Before we get into that, though, we do get a nice personal moment where Grover asks about his daughter's laptop, which was taken from his truck back at Ian's house. He tells the guys about his daughter online and while Chin/McG chuckle, we see that Grover is just being a concerned Dad. Yes, folks, he's human. Chin offers to track the IP address of the laptop and hopefully get it back. 
Back to figuring out that Ian and some of the stuff he's planning. This is also the point where Grover says, "He's lined himself up with some pretty nasty fanatics." (Of course, I said out loud, 'TV Fanatics?' We are a tough bunch, right?)
Flash forward to the house of a lawyer on house arrest who may be a key to finding Ian but when they get to his house they find an ankle bracelet from the house arrest, a bloodied saw and a severed foot in a bathtub. Ew! Off to a marina to catch them all and the guys wrangle the lawyer, the bad guys but no Ian. 
Remember Chin offering to track Grover's daughter's laptop? They get a hit on its location and the team ends up at the airport to find Ian, casually working away on it. Turns out he's hacked into a commercial flight from LA to Hawaii and if they don't get him on his own flight to get away, he's going to make sure the plane heads right into the ocean. (Message here - don't mess with Nick Jonas! But, truth be told, Jonas does a good job playing the bad guy. And, fine, he looks good doing it, too!) 
For good measure, McG slugs Ian a few times (and, yes, in case you were wondering, Jonas can take a punch but good), and then he and Grover agree they can't do anything but go along with him to save the commercial flight and its passengers.
However, Ian reveals the laptop is linked to another computer that is really in control of the flight and that's where Catherine steps in. By looking at the parking tickets that started this whole mess, McG and Grover pinpoint a computer lab on the Oahu College campus. Go, Cat, go! 
Ian is put on the getaway flight - and he's very smug as he says goodbye to the guys so we can hate him a little bit more - and, just before the plane is about to take off, Catherine finds the campus computer and is able to block the hacking and the flight is saved. But where is Ian? When the guys stop the flight from taking off  they find Grover's kid's laptop but no Ian.
Yes, he got away and you know what that means? We could get Nick Jonas back in a future episode!
We wrap up the episode with McGarrett and Grover still ribbing each other but it's less animosity and more respect. Progress! Then we see Grover give his daughter back her laptop and they have a nice moment how being in this new place might not be so bad after all.
The last moment is McGarrett stopping at an ATM and, once he's put in his card, a message appears on the screen. I Should Have Paid Those Parking Tickets. McG realizes the ATM camera light is on and he declares, "I'm gonna find you." The screen then reads Good Luck!.
What did you think of the episode? Did you buy Nick Jonas as a bad guy? Would you like him to reappear so McGarrett and Grover can get their revenge??  Leave a comment below!
Jim Halterman is the West Coast Editor of TV Fanatic and the owner of JimHalterman.com. Follow him on Twitter.