It was about time we headed back to the Islands, wasn't it?
And Hawaii Five-O Season 4 Episode 7 was a decent episode to return to  for our weekly reviews. Emphasis on the word decent since regular viewers know there wasn't much movement forward with the bigger arcs of the season.
The case of the week for McGarrett, Danny and Chin Ho involved an undercover ATF agent who got murdered in the opening, but we also got Catherine Rollins helping out 5-0 to get some information to hopefully get the still on-the-run Kono (who was unfortunately not seen in the episode) back in the fold.
The episode balanced the darker moments of the crimes at hand with a cute subplot involving McGarrett's wayward sister Mary showing up with a baby that she's adopted.
Steve, of course, had a lot of misgivings about his kooky sister having a child, but he's the one who ended up taking care of her when Mary got salmonella poisoning.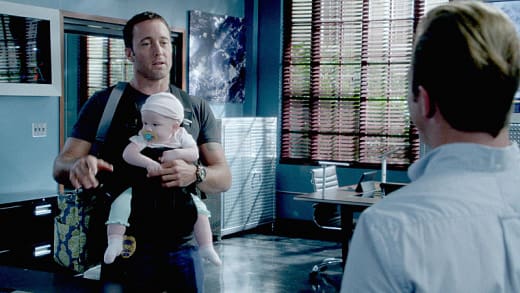 Off and on in the episode, we saw our macho guys go all Three Men And A Baby, taking turns minding the kid while also pursuing their latest case.
However, while there were some cute moments – like Danny telling a story about a handsome prince (himself) and an ogre (McGarrett) he is battling and Chin Ho emerging with baby puke all over his nice white shirt – things didn't get as manic as I thought they might.
The best fight of the week surprisingly involved Rollins, who got to kick some major ass in a bathroom fight scene. But, for me, it only made me wonder why there wasn't more fire and heat between she and McGarrett.
They're supposed to be in love but when you have Alex O'Loughlin in a towel and there's no heat between the two characters, that's what you a call a huge missed opportunity to get a few moments of sexy time in an otherwise un-sexy episode.
One relationship I am loving on the show is Chi McBride's Captain Grover... with pretty much everyone. He doesn't hide his disapproval of the 5-0 team's tactics and while we see him barking at McGarrett, I liked that he tried earlier in the episode to chat up Chin Ho, who he seems to have more respect for since Chin was formerly a cop.
Wisely, Chin wasn't buying what Grover was selling but only showed that our 5-0 team is a solid one even if Kono isn't around at the moment.
So what goes on with the cast of the week, you ask? We find out that the murdered undercover ATF agent, Matt Hutchins (who Chin knew back in the Academy) could have gotten too deep into the assignment or maybe he was dirty. The crew gets some intel on Matt from the woman who transcribed his undercover reports and she informs the guys that she thought Matt could've been brought out of the undercover mission much earlier but, for whatever reason, was not.
Hmmm…
There are lots of guest stars coming up on the show – Nick Jonas next week and Carol Burnett for a Thanksgiving episode – and this one is a bit of letdown in the form of  Daryl Hannah. The actress, best known for her mermaid role in Splash, was only in one scene, sported a strange southern accent to flirt with Danny and was mostly a throw away role that anybody could have played.
Back to the case: through some minor twists and turns involving staking out the zoo, the gang uncovers that the transcriber and her boyfriend/thief are the guilty parties in the murder and the case is solved. We get a video of now-cleared (but still dead) Matt talking to his wife/son about why he's undercover and the sacrifices he's made but, honestly, the sentiment was a little forced since we never got to know Matt or see him with his family.
In the closing moments, Mary is recovered and seems to be more into being a mom to her baby and lets the guys off the hook from babysitting - but then we get a dose of our season arc as Rollins enters and has secured a lead on where Adam and Kono may be.
She then moves to give Steve the badge back now that the undercover job is over and he tells her to keep it, saying "Welcome to 5-0."
What did you think of tonight's episode? Are you missing Grace Park's presence on the show? 
Jim Halterman is the West Coast Editor of TV Fanatic and the owner of JimHalterman.com. Follow him on Twitter.