There are new ways of dealing with conflict - and then there are just total shockers.
Nashville Season 2 Episode 7 gave us a taste of both.
It was Juliette's return to touring and everyone knows that a Juliette Barnes tour isn't without a little craziness!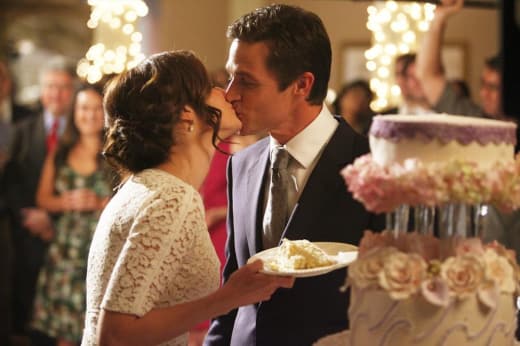 Speaking of crazy, Peggy and Teddy got married. She knows she can't fake her pregnancy forever, right? Guess she was waiting to lock Teddy in legally until she dropped the bomb. I felt sad as Maddie watched Teddy and Daphne dance, but I really don't think Teddy will ever love her any less or any differently.
However, I don't blame Maddie for having questions and wanting to get to know Deacon.
I also don't blame Rayna for not being sure that she can trust Deacon to not hurt Maddie. She loved Deacon with all her heart for years and years and his alcoholism ruined things time and time again. At the same time, Rayna also hid a kid from him for 13 years, which was insane.
You and I have been doing a real good job of keeping our distance and moving on with our lives, but we'€™re just not gonna be able to do that. We have a daughter together. She'€™s asking for you, she wants her father.

Rayna [to Deacon]
My favorite scene was when Deacon decided to face his fear and play The Bluebird in front of Rayna and Daphne. Aside from loving the new, sorta comic duo that is Deacon and Avery, I adored that Maddie got to see and connect with her dad. Their bonding moment over stage fright was adorable. Especially when Deacon told her not to grow up too fast. I got a little misty-eyed!
You'€™re definitely growing up fast, just not too fast okay? I just got here.

Deacon
Off on tour, Juliette found time to be with her latest hidden fling Charlie. She also stood up to a perverted DJ. At first when she was pissed at Charlie for stepping in and firing the DJ, I was thinking "girl you can just say thanks."
I know Juliette likes to handle her own problems, but that guy was clearly a little scummy. Then she turned around and flipped it back in his face all the while holding even more power above Santa's head. Now Juliette owns him.
I guess when you're as devious as Juliette, you think on higher levels of blackmail and revenge. That wouldn't have even of occurred to me. Juliette's right, nice just ain't her color.
Speaking of things I didn't expect...ummm, can we all discuss the confrontation and subsequent kiss with Olivia? Did anybody see that coming? We saw in previews that she confronted Juliette over Charlie. I thought maybe we were going to see some kind of psycho Fatal Attraction in reverse situation, then she kissed her! Hey, maybe now we know why Olivia is never happy with Charlie?
It seems Olivia and Will need to have a discussion about closeted behavior. Although, I'm not sure either of them is fully gay so much as bisexual. Either way, there was a more mature way for Will to have dealt with the homophobic guys. However, I'm not going to sit here and say they didn't deserve to be punched in the face. They were douche nozzles.
We didn't see too much of Scarlett and Gunnar tonight, but they're about to see a lot more of each other now that Jeff sent them on tour together! Now Avery and Zoe just need to be in an awkward romantic situation and we've got ourselves a full love-square.
What do you think will lead to Scarlett's stage fright next week? What was your favorite part of tonight's episode? Were you shocked by Olivia's reaction to Juliette and Charlie?
React now and remember to visit our section of Nashville music.