The NCIS writers knocked this one out of the ball park, thanks to a story that introduced us to NSA Agent Eleanor "Ellie" Bishop.
There were certainly no half measures in the introduction, either.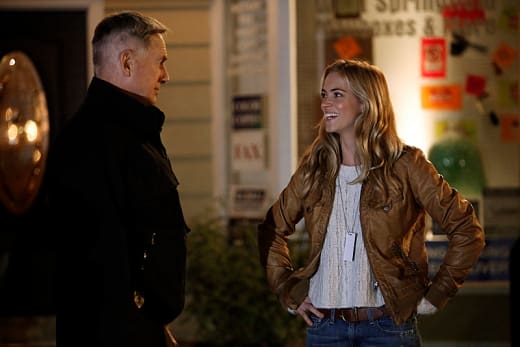 NCIS Season 11 Episode 9 opened with a meeting between NCIS, SecNav Porter and a couple of military contractors in MTAC.  
When sensors within the room discovered a security data breach (in the form of an unauthorized data transmission) the room went into automatic lockdown. Eventually, the bug was found in one of SecNav Porter's pockets.
We later learned that she had received the pen in a bogus snail mail request for charitable donations and that it had been sent to her from Ward Davis - one of the military contractors - who wanted to discredit her.  
The fact that his business opponent had also found one of the spy pens on one of his employees suggests that money was a huge motivation for Davis and that discrediting Porter was only the icing on the cake.  
Davis' protest suggested a fumbling attempt at finding an altruistic justification for his criminal misdeeds: I only wanted to protect this country and the people defending it. Sure.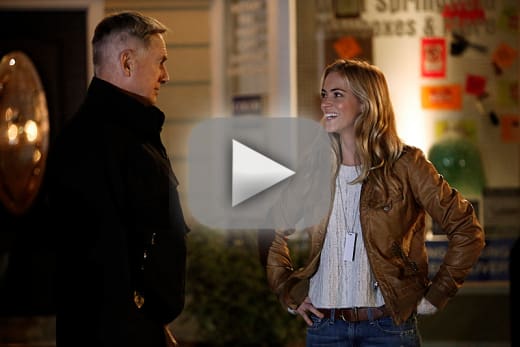 The genius of the case itself was that it provided an almost perfect vehicle to introduce Ellie Bishop to the team - and to us.  We learned so much about her in this episode that her character can ramp up right away. There's no no need to spend a whole lot of time in future episodes trying to get to the meat of her personality.
Her first appearance on the show was disarming. There she sat, right on the floor in ripped jeans, rocking away to some tunes, completely engrossed in her papers and books.  
Even her first few lines provoked some raised eyebrows. To wit: I thought we discussed Rule #1, Flynn. When my earbuds are in, flash the desk light.
She has rules? And she numbers them?
Tony's lines are often witty - it takes a while to realize what he's on about, particularly when he's making movie references without telling anyone. When he first called her "Russell Crowe" I didn't quite catch his reference. It wasn't until this - one of the many NCIS quotes from this episode - that I clued in to what he was talking about:
Bishop: It doesn't make any sense.
Tony: What now, Russell Crowe? Hasn't your beautiful mind gotten you in enough trouble today?
That pretty much describes her mentality: she's focused and she can pull two or more seemingly disparate pieces of data together to reach a conclusion quickly. Gibbs seems to instinctively understand this about her and already he knows to allow her to process before she reaches her thought.
I found her charming and appreciate how she seems to make herself at home, regardless of where she is. Witness her body language when she's in the morgue with Gibbs and Ducky: she just gets up on the slab, and sits cross-legged. Totally laid back. We saw the same relaxed demeanor when she sat on the desk of she-who-shall-not-be-named.
And Tony saw her wedding ring, almost immediately, thus taking her off of his list of possible romantic targets. Good on the writers for doing this! Of course, this is a thread the show is sure to follow in future episodes - specifically, is she married for real, and if so, to whom? We'll want to know more of her back story, which I'm sure we'll get eventually.  For now, she's a bit of a closed book.
Another interesting revelation showed up, regarding SecNav Porter. Her slight nervousness about her position when she said to Gibbs and Vance Everybody's looking at a female SecNav with no military background wondering if either one of those things are going to be a factor. I'd like to answer them by setting this right.
It's likely that she saw a similar struggle in Ellie Bishop:
Porter: Everything okay?
Bishop: You should have seen my mom when I told her I was taking a job outside of Oklahoma.
Porter: Why did you?
Bishop: That's the difference between Mom and Dad. His first rule is: comfort makes for complicity. Means the only way to grow is by challenging yourself.
Porter: Well it helps to remember why we do the job. Keeps us going.
The grateful look that Bishop gave her afterward said a lot.  
Bishop's quick thinking regarding the interrogation scene was brilliant - and it made me laugh. Lesson learned:  if ever you're being questioned by the police, always check the credentials of the lawyer the first time he or she shows up.  
Final notes on Ellie Bishop:
She has three brothers
She "food associates".
Her ability to draw is good but not "Kate good"
She plays chess.
She did well in weapons training.
Her only apparent fault right now is that she finds it difficult to work as part of a team, mostly because she processes so much internally, with intense concentration. She knows this, however. I expect this to be a problem we'll see her work on in future episodes.
She's not exactly leaving the NSA. Her assignment with NCIS is labeled as a "joint duty assignment".
So it seems there's lots to build on with her.
Note: the next episode will be a repeat of NCIS Season 10 Episode 5, "The Namesake." The next new episode of NCIS will air on December 10.
What did you think of the case of the week?  More importantly, what's your impression of Ellie Bishop?  Do you like her?  Dislike her?  Is she a good fit for the team?
Douglas Wolfe was a staff writer for TV Fanatic. He retired in 2016. Follow him on Twitter
.