Will has taken the stance of a maverick as the leader of LG.
Sick of the constant debates that never seem to end, he's decided take matters into his own hands and make decisions without the consent of other partners. It turns out that everyone at LG are followers, and they'll go where Will leads.
We also discovered in The Good Wife Season 5 Episode 9 that the days of LG winning every case appear to be over.
Whether or not that's because there is a moral to this story - good guys win - or because Alicia was vital to the success rate of cases at LG remains to be seen, but it was nice to see some of the good news fall to the side of Florrick/Agos.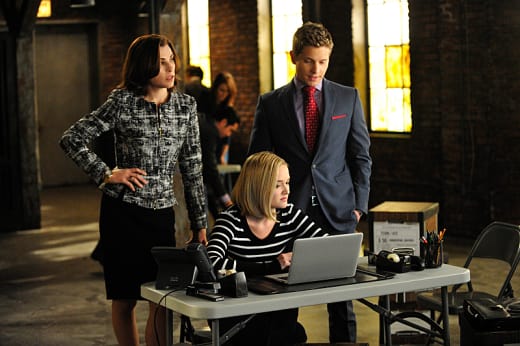 The case Alicia and Cary were working on was fascinating. The racism was bad enough, but to be compounded by crowd sourcing conspiracy theorists on the Internet and then a site that aggregates and inflames discussions by creating social robot trolls that will drive traffic to their site to keep threads going is both ingenious and frightening. How often have we fallen for a ChubbySocks52?
Will's decision to hire Damian Boyle was reckless, and the lack of vetting was even worse. At some point, it should come back to bite them in the ass, but I don't expect it to be for a while. He's too entertaining to go anywhere any time soon, and the only people who take issue with him are Kalinda and Diane, seemingly the sole voices of reason left at LG.
As hasty as Will was to hire Boyle, I don't think he would approve of the approach Boyle took of infiltrating the Florrick/Agos offices. I would hope he'd draw the line at criminal activity to get ahead. Howard Lyman thought it was just peachy, and later David Lee was on board, which lead me to believe that he knew what they did over there. Another reason those guys have to go.
Alicia noticed Boyle wearing her #1 Mom pin in court, but she didn't put together that LG was fighting the case because they discovered the casework while they were taking their office furniture. Cary was probably right in his assessment that LG wanted to rile up Chum Hum with Internet privacy issues and rethink their arrangement with Florrick/Agos because of how they were representing Zayeed Shaheed. But, every case is different, and I think Neil Gross would get that.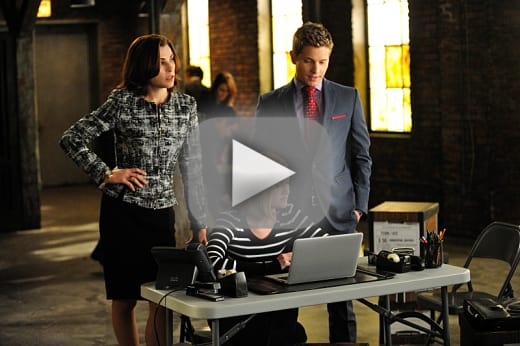 The always enjoyable Judge Kluger presided over their case, and while Will and Diane were at Florrick/Agos negoiating, he called to invite Alicia to coffee. What was up with that? He called her Mrs. Florrick and said not to take it the wrong way - so why was he asking her out to coffee? And how can she gracefully decline if she does take it the wrong way? Awkward.
Diane's reaction when she entered the offices was enjoyable. She was taken back to when she and Will first started out, although Will didn't appear to see the similarity. Diane was torn, and it was obvious that all of the political machinations they've been going through lately have taken their toll on her. She isn't as passionate about her firm anymore, because it's not her firm. It's changed to something she no longer recognizes. I hope she can have some influence and get that firm back.
The other big story of the night was with Peter's next choice for Supreme Court Justice. It was someone who slept with Jackie's husband 20 years earlier. Jackie remains an annoyance on the show, and a thorn in Eli's side. That she would consider telling a dying man that his wife cheated on him to make herself feel better doesn't say a lot about her. She's been painted in a negative light for a long time, and it's no surprise why her husband turned to another woman (probably a lot more than the one).
It was a solid episode and one where we learned that the winning won't come so easily anymore. It raises the stakes for both sides to have competent and worthy adversaries. Once the game playing stops, there is also an opportunity to have more cases per episode, which should speed up the intensity of the legal proceedings.
They'll be shooting from all cylinders! 
Carissa Pavlica is the managing editor and a staff writer and critic for TV Fanatic. She's a member of the Critic's Choice Association, enjoys mentoring writers, cats, and passionately discussing the nuances of television and film. Follow her on Twitter and email her here at TV Fanatic.