The Originals Spoilers: TVD Crossover, Marcel's "Counter Strategy" & More!
Jim Halterman at .
So... Elijah is The Man, huh?
On The Originals Season 1 Episode 6, viewers witnessed this vampire remain true his word in the most violent of fashions, while at least one major lie was revealed, romances were heated up and a death caused a ripple among the witches in New Orleans.
Moving forward, what will Marcel do now that he knows Klaus has been lying to him? Is Cami going to get her revenge? What will happen now that witch Agnes is dead? Will Rebekah ever get away from her family? Are Elijah and Hayley going to take a step towards their obvious attraction?
We turn to series creator Julie Plec and co-executive producer Michael Narducci for some answers, as they gave us a slew of hints as to what's to come, including the much-anticipated Vampire Diaries crossover featuring Tyler Lockwood...
A Suspicious Marcel: The New Orleans King now knows that Klaus may not be all he's seemed since his arrival in the Big Easy. "[Marcel] clearly knows that this person who has been buddying up to him all along isn't necessarily on the up," Plec teased. "So it's the beginning of the next stretch of Marcel trying to figure out what Klaus's game is and where he fits into all of it. We shall see what he chooses to do about that."
Rebekah: Just when she thinks she's out, the lovely vamp gets pulled back in, right? Will Rebekah ever get what she truly wants, which includes getting away from her family? Don't count on it. "Rebekah's predicament ," said Plec, "is she honestly believes that everything she wants is outside of the family….as much as she loves Elijah and as much as she loves and hates and loathes and despises but still loves Klaus, she really believes that 'if I can just break free of this, I can have all I've ever wanted, which is a life that I am in complete control of.' What she's going to have to come to terms with is the fact that you can't escape this group. No matter what you do, the pull of family is always going to be stronger."
(In other words, now that Hayley is missing, watch for the blonde one to be a very big part of the search.)
Hayley & Elijah: If you aren't shipping these two, it's time to start. Elijah may have thought he was just caring for the baby the young wolf is carrying but, as Plec suggested, his eyes - and undead heart - may be opening soon. "I think [Elijah] believes he cares deeply about that child that she's carrying and maybe [he's] starting to have his own level of concern that maybe it's more than just the child that he is protecting and caring for. It's definitely not a good thing."
Also, assuming Hayley and her baby live, the baby will arrive during The Originals Season 1.
Cami & Klaus: Another potential romantic coupling could be coming but only if Cami can make a change. "She's going to continue to do anything and everything she can to break free of this bond that [Klaus has] created between the two of them that is controlling her," Plec said. "She's not a weak, little, wilting flower so she's probably going to have a little bit of success at that."
Davina: Plec said that the young witch's coming journey will "put her both at odds with every one but also create some surprising new friendships and new alliances that we maybe didn't see coming." Narducci added that it may be awhile before DaVina finds out the last elder has been killed as a way to control her. 
Crossover Is Coming: Tyler will make his appearance in an episode this month... though Plec was secretive about which one. But Narducci offered: "A lot of things will come out of that crossover that are gonna shake things up within the core dynamic of the original family. And there will be a whole storyline that will come out of where that crossover leads them geographically and what they discover when they're there so there's a lot of stuff that's about to be introduced."
(FYI, that geographic reference does NOT mean Mystic Falls, Plec confirmed)
Hayley's family: Remember that Hayley came to New Orleans initially to find out about her family. And a certain wolf will play a big part of what she uncovers. "The one thing that Tyler does offer in his presence as he sets foot into this world is answers and more information," Plec previews. "So he takes her to a place out in the bayou where she's going to start to understand a little bit of where she comes from."
Marcel & Elijah: Marcel is going to find there's more going on under his nose besides Klaus's deviousness, like the relationship Elijah has formed with Davina. "As you started to see Marcel's piecing together what's really going on," Narducci explained, "he's just going to piece together more and more and he's going to start to begin a counter strategy as he realizes what's really going on."
Witch Drama: The death of Agnes will definitely make things complicated for the show's witches. Plec explained: "They have hit rock bottom in that everything that Sophie was trying to do and everything that the witches need to hold onto their power got killed in the form of the only living witch able to do that spell."
Watch for nursing of the wounds and Sophie to have a "spirit crisis." Davina will play into this story, too.
The Originals renewal: While the show hasn't officially gotten its order for the back nine episodes, Plec and Narducci both are confident they'll have a full first season and are working towards that in the writers' room. Fingers crossed the news comes down soon.
What are you loving or not loving about the new series? Are you excited to see Tyler in New Orleans?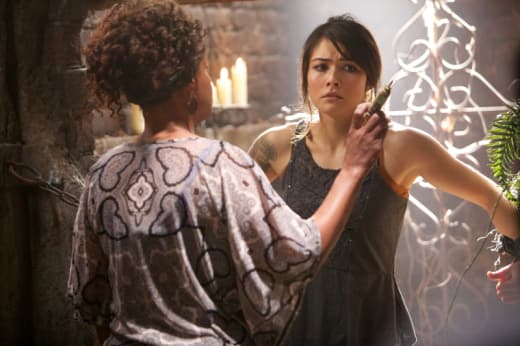 Jim Halterman is the West Coast Editor of TV Fanatic and the owner of JimHalterman.com. Follow him on Twitter.