Hawaii Five-0 Review: Honor Thy Father
Jim Halterman at . Updated at .
Some shows do a holiday themed episode.
But if you're a Hawaii-based series like Hawaii Five-0, honoring the December 1941 attack of Pearl Harbor works, too.
And work Hawaii Five 0 Season 4 Episode 10 did. With just the right elements of sentimentality, drama, mystery and even some backstory for our own Steve McGarrett, the episode was a winner.
First off, the opening was quite impressive and cinematic (see my interview with Peter Lenkov and Ken Solarz, writers of the episode, for more on the filming of it) with the recreation of that awful day that changed so many lives. The special effects were solid and if the show wanted us to feel like we were there that day, job well done!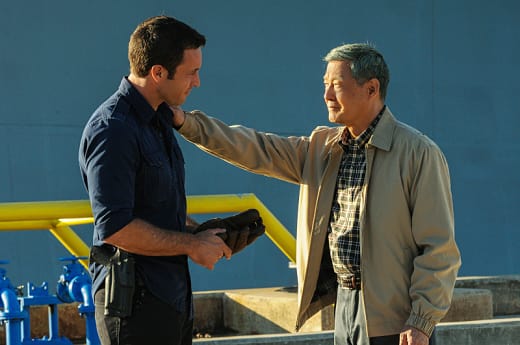 But there's also a story to the episode. Post-flashback, we're at a Pearl Harbor ceremony on the actual site and, bonus, we get McGarrett in his Navy whites.
Catherine is here... and so is an elderly Japanese man aiming to kill one of the vets from the ceremony. Steve, not letting his whites slow him down, takes the man down and we're off to 5-0.
The man is David Toriyama (the awesome James Saito) and he feels like he's met Steve before (or maybe a McGarrett... hmmm??). David was seeking revenge for Ezra Clark (the vet) killing his father in 1943. So, yes, we have a case!
We're going back to the 1940s where David is a young boy with an older brother, Kenji (Conrad Pratt), who lived on the island with their parents at the time of Pearl Harbor.
At first, it's a bit jarring that we're spending so much time in this past story, but Lenkov and Solarz's writing draws you in quickly and, like the opening, you feel as though you're getting a piece of history we haven't seen before. (And a shout out to director Larry Teng, who did great work in making this episode feel less change-of-pace but a fitting piece in the H50 series.)
After Pearl Harbor, we're shown how the Japanese residents (even if they were American citizens) were unjustly taken from their homes by the government and put into intermittent camps. David's backstory even says it felt like they were POWs, which is exactly what I thought in watching these scenes.
(Yes, we're learning history here, folks, and it doesn't suck!)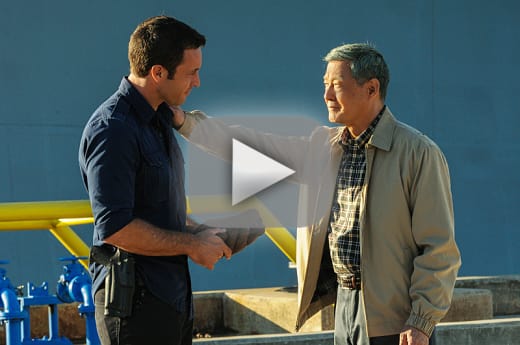 David contends his father was murdered but it was covered up because he was Japanese. Truth or not? 5-0 will find out! McG and Cat meet up with the cranky old coot, Ezra Clark, who at first seems like he could be a racist but – shocker – he had a Japanese wife and daughter!
One of the best scenes of the episode takes place between Chin and David. Chin wants to shake his hand for what he's been through and for being a soldier. Chin reveals he had an Uncle who was also at the camp and there's a nice understanding between the men. David urges him when he has a family to pass on the story of Pearl Harbor so it's a story we never forget. (Which is exactly what this episode is doing. Thumbs up!)
The investigation continues with David being taken back to his home where he goes through old pictures and – WTF?! – Steve recognizes his grandfather – who was in the Navy and died during the Pearl Harbor attack - in one of the photos. 
(See what they did there bringing the McGarrett lineage into the story?!) We also find out Kenji was killed in Italy during the war and David still misses his brother. McG is going to see if he can help David get an ancient sword back.
Danny is confused. That is all.
Wait. There's more: Danny (confused by the case) kind-heartedly gives Steve some flack for being a softie and keeping on this case, which Steve says he's investigating out of honor. The guys show up with Chin at an old storage space where they find some old files from 1943. They do find an old witness report where Ezra Clark is the witness, not the offender but this could still be a cover up!
We get a nice scene where Steve looks at old family photos to see if there's a David connection and there's no sign of the sword either. The team takes David out to the site of the intermittent camp to jar his memory on some details. It works and David remembers when his father was killed…and David contends it was Ezra Clark….but evidence from the paperwork show that the cop who may have covered this up was George Rigby.
We go to the Rigby home where his daughter shows them to more old files and there are some twists and turns in the story that leads the team to needing to find the bullet that killed David's father. And, hey, it's Max (Masi Oka), who we haven't seen in awhile! Hi, Max!
In short, they resurrect the body, find the bullet, do some testing and we find out the murderer was not Ezra Clark, they get the sword back (from the now-dead murderer's Grandson, who had no clue what it was), return it to David, who apologizes to Ezra Clark.
The final button on the episode is Steve back at the USS Arizona and David is there. Turns out Steve's Grandfather was someone David knew and they even played catch, and David gives Steve the baseball mitt. A nice moment bridging the past and the present and we're done.
Bravo, 5-0!
Jim Halterman is the West Coast Editor of TV Fanatic and the owner of JimHalterman.com. Follow him on Twitter.