Masters of Sex Review: Disaster Drills
Leigh Raines at . Updated at .
Despite the distraction of the bombing drills on this week's Masters of Sex, the subtext was still clear: run for cover.
Masters of Sex Season 1 Episode 10 found us in the midst of several disasters, least of all a heated conversation between Virginia and Bill.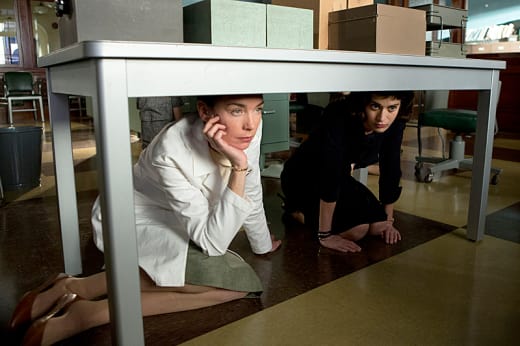 I left off my Masters of Sex season 1 episode 9 review wondering if Virginia was going to fall back into old habits with Ethan. Sure enough, after Bill offered to pay for her participation in the study (to put some space between their growing personal relationship) Virginia felt rejected and ran back to the man who worshipped her.
Too bad for Vivian Scully.
At first Ethan thought it was because of Vivian that he didn't secure a position at the hospital for after his fellowship. After he confronted Barton, who has much larger problems to deal with, he found out that it was Bill who was behind everything. Bill didn't give him a good performance review. Is anyone surprised about that?
It's true that Ethan's patients do love him and he is a good doctor, but he has done some things that would call his license into question. He got Libby pregnant with Bill's sperm without Bill's consent. Actually, this does raise a question on technicality:
Does Ethan need Bill's consent with each attempt he makes with capping Libby? Regardless, Bill is pissed his wife is knocked up now.
The fact is, Bill pulls a lot of the strings. Ethan pissed off the wrong person and unfortunately it doesn't seem like there's much he can do about it. Things have also been extremely tense with Bill and Virginia. The difference is that Virginia's hands aren't tied on the issue. She finally said what we've all been thinking!
You did always say we couldn't let emotions cloud our judgment, but you did. Which means it was never really about the research, no we were having an affair.


Virginia
Bill has already fired Virginia, what twice now? Will they keep separated for good this time? I like that Virginia and Dr. DePaul have bonded a little bit. They are both strong females who need to stick together. 
Two other major storylines this week were 1, the participant who got pregnant and 2, Margaret finding out Barton is gay. The first one was a shocker, but why was I unsurprised that Austin was the father? That guy can't keep himself out of trouble. The second, was only a matter of time, but the way Margaret figured it out: wow.
Let's turn it over to you guys, what was the most shocking moment of the week?