Once Upon a Time in Wonderland Review: Believe in Love

Christine Orlando at . Updated at .
Back in October, The Red Queen was my least favorite character.
My, how times change. After watching Once Upon a Time in Wonderland Season 1 Episode 8, she's become my favorite.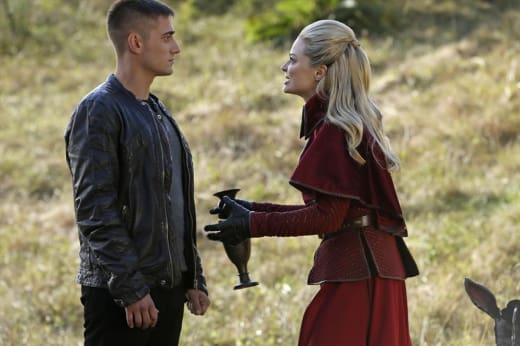 I love everything about her, from her killer red outfits to her attitude as she says Darling. Most of all I'm entranced with how cold and calculating she can seem one moment and yet completely vulnerable the next. 
Her relationship with Will, aka The Knave of Hearts is another intriguing part of her story which made this winter finale all the more compelling. 
I know the story is about Alice, but to be honest I'd rather see more of Anastasia.
But Alice's story has been sweet. I believe in her and Cyrus' love even though their story has borderd on dull from time to time. Perhaps there's only so many times I can stand to watch two lovers get pulled apart although I"m hoping it will make it all the more enjoyable when they finally manage to be together. 
The fact that Cyrus wasn't always a genie was an interesting twist. I never gave much thought to where genies came from. But I suppose that Will now knows that a wish gone wrong can send you into a bottle for all eternity. 
I'm guessing Cyrus magical compass will come into play in the future. Did it stop working because his mother died or was there another reason?
I also enjoyed the look back into the past to see how The White Rabbit, Cyrus and Alice bonded so closely. Thankfully the Rabbits good karma came back to them when they needed rescuing. 
There were lots of fun moments in this episode. A grapevine that actually transmits messages. The Red Queen sending a talking head in a box as a message to Jafar. 
Speaking of Jafar, he certainly lost it when he realized he didn't have the right bottle. He was so angry that he sent the cloud of death after the Red Queen. 
I really wondered what the Red Queen's plan was as she brought Cyrus to Alice but I suppose she knew that Jafar was after her and she had to choose a side. And I did believe her when she said she wanted Will. What I'm uncertain of is whether she'd give up all of her power to get him back. 
But perhaps Cyrus was right when he said in this Once Upon a Time in Wonderland quote…
Well, if you can't believe in love what can you believe in?

Cyrus
A telling moment was when the Queen ran for her Knave instead of the genie bottle. The question now becomes, what will The Red Queen, Alice, and Cyrus do to get him out of that bottle. And what happens if Jafar gets to him first?
The Once Upon a Time in Wonderland winter finale definitely has me intrigued. What is Jafar's plan? Is Alice truly out of danger and can anyone help the Knave of Hearts escape life as a genie. We'll have to wait until March 2014 to find out.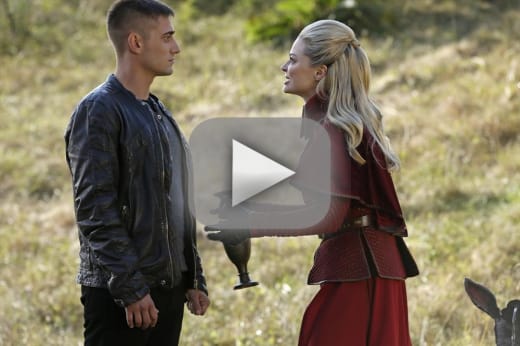 C. Orlando is a TV Fanatic Staff Writer. Follow her on Twitter.