The series was released in July, but I feel like I'm only slightly off target as Orange is the New Black Season 1 Episode 9 focuses on the first of two major holidays -- Thanksgiving.
Holidays can generally suck for people depending upon their circumstances whether they're behind bars or not. Heck, if they were on the streets, it's possible being locked up might make the whole affair nicer, in an odd way. But, the majority of these ladies just want to get out and it really stinks to see them spending family time without friends and family.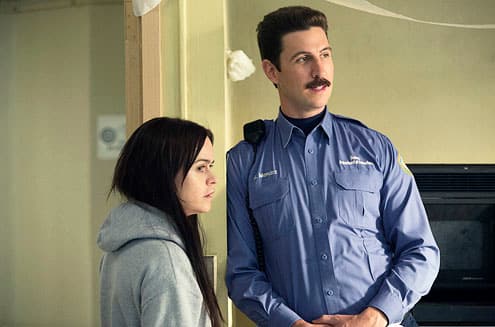 Watching queen of the golden teeth, Pennsatucky (who doesn't deserve a real name, considering what a crap person she is), makes me wish the rapture would come before the series ends so that she could discover what it truly means to take God into your heart. The look on her face when she realizes her treatment of people locked her out of the rapture bus would be worth the strange turn the show would have to take to go that route. She's truly a God-awful character.
Pennsatucky's pettiness and self-importance are the catalyst for what goes down with Alex and Piper on this installment. She uses her religious views when they propel her personal agenda, whether good or evil. And she is evil. Thou shalt not bear false witness about thy neighbor doesn't seem to hold much merit where she's concerned, and because of that Piper was sent to SHU and Alex suffered indignities such as losing her mattress and broken eyeglasses.
As a viewer, it was interesting to see SHU, and I don't know how soon we would have seen it if Piper hadn't been sent down. If anyone questioned Healy's own vindictive behavior, they need to no more. He's clearly a tiny man lost in his power struggle over a bunch of locked up women. Even Pornstache thought sending her down was unfair and he gets his rocks off on that stuff.
Landing in SHU gave Piper the opportunity to be as low as you can go and to know there was nothing worse that could happen so she told Healy what he needed to hear -- she was never going to be his girlfriend, inside or outside Litchfield, and nobody like her would ever do him that honor, either. Too bad she doesn't know he probably had to buy his wife.
Pennsatucky calling Alex a rich bitch was so far off the mark that we learned a bit of her back story. She was the daughter of a rock "god." When she finally caught up with him as an old, worn out band dude, it was that fateful meeting that turned her into the drug dealer she was when Piper met her. She was just a poor girl hoping to meet her father. Learning those stories are so interesting. I wonder how many of them are real.
Other interesting storylines:
It finally came time for Taystee to get out of prison, and she started to worry about what it would be like for her on the outside. While everyone rallied around her and gave her the appropriate pep talks, reality was more like she expected. Her cousin was no longer living at her address of record and the lady didn't want an "ex-con" at her apartment -- which was said as dudes were in the background smoking crack or something. She can't even be near that stuff on parole. Since we saw her on the outside, does that mean we'll see her again?
Sophia's journey to letting go of her wife so that she could have a life with a man again was touching. She's more of a man than any man I know. That's not said in a derogatory way, but it takes a big heart to do what she did, and men should look upon her actions admirably and learn from them. 
Larry was angry and upset at Piper's time in SHU, and called everyone, making quite a stink. It didn't stop him from making an ass out of himself when Maury Kind showed up to his dinner party. He sure likes to promote himself. He had left his number for Healy to call him -- my guess is Healy told him Piper engaged in homosexual activity in prison. Uh oh.
Pornstache and Red had a showdown of sorts and the only thing that really suffered was the Thanksgiving gravy. She really has nothing to stand on if she wants to a) continue to bring in her own contraband and b) live. As much as she hates drugs, she needs to turn a blind eye.
It seems like the relationship between Daya and Aleida might be on the mend because of the unexpected pregnancy. That whole situation is going to get very messy, and Bennett will find himself in hot water, but a mother and daughter might end a very long feud. The overall cost benefit ratio is still questionable.
To finish out the hour, when Piper got out of SHU, she did the exact thing that got her sent down in the first place -- in the sacred home of the Lord. I suspect the game to be changed in the next episode with Alex and Piper together, Larry angry as hell and Healy gloating... but he and Pennsatucky sent two women into each others arms. Great job!
Carissa Pavlica is the managing editor and a staff writer for TV Fanatic. She's a member of the Broadcast Television Journalists Association (BTJA), enjoys mentoring writers, wine, and passionately discussing the nuances of television. Follow her on Twitter and email her here at TV Fanatic.