American Idol Review: See You At The Crossroads
Miranda Wicker at . Updated at .
The judges of American Idol are in Salt Lake City for another round of auditions! Utah promises more guitar-playing singers and hopefuls.
How many of them will find themselves headed to Hollywood? Let's get going and find out...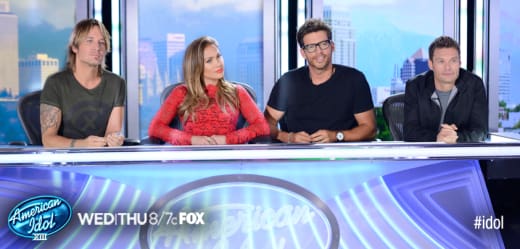 Austin Wolfe is first up on the night. She sings "Radioactive" and coming off that amazing Imagine Dragons and Kendrick Lamar Grammys performance, it's almost impossible not to compare. She had a weird grit in her voice at times, but the judges loved her. She's going to Hollywood.
Kylie Adamson is an 18 year old lumberjack. And she can sing! She does a weird thing with her eyes when she's singing where the sort of roll back in her head a little bit, but she's got the pipes. They keep her around.
Keith Sanders rocks out with his guitar. So does Michael Simeon. Michael needs a little energy but Keith has that in spades. Tessa Norman has a jazzy sound and is clearly a fan of powerhouse singing. Jennifer tells her she's a star. Keith loves Michael. Keith doesn't think he's good enough to be American Idol and Harry tells him to rethink that. All three of them get golden tickets.
Alex Preston takes a risk and sings an original number. He has a Jason Mraz quality to his voice, but it's a little darker and somewhat more serious. The judges let him get through an entire verse and chorus before stopping him and when he's done he just sort of nods and goes "I wrote that..." Harry and Keith are sort of fascinated with his guitar skills and J.Lo loves how comfortable he seems performing. He gets a yes.
Louisiana native, Samantha Calmes, also chooses to sing an original song. She does a cool rap-singing thing reminiscent of Macklemore and it's really great. Really different in the landscape of the competition. Harry asks her to sing something not original so they have a frame of reference and she chooses the theme song to The Jeffersons. It's an odd choice, but she rocks it. Harry wasn't impressed with her voice but loved her style. Jennifer loved her voice. Keith loved the originality. She goes to Hollywood.
Ellie Duck, Bhaya, Evan Sharp, and Julie Awful hit the judges' chambers. Julie was an Idol bus tour participant from Oxford, Mississippi. 
Lebryant Crew is a real estate appraiser from Arkansas who came in with Julie on the bus tour. He's a preacher as well and hopes to be the first preacher to win American Idol. Laurel Wright auditions with an original song. They both get golden tickets.
Not sure about that other string of people they introduced...
Next up is Ed Sheeran lookalike D.J. Bradley who sings Adele. His phrasing is sort of awkward but he sort of slides into the pocket on the chorus. J.Lo says he has a "quirky" thing going on. She says he hides behind his hair, and he does. Keith calls it a balance between mysterious and disinterested and NAILS the critique with that comment. Keith's on the fence but at least two of them give him a golden ticket.
Oh, there's Julie Awful! She gets a golden ticket.
Kenzie Hall, 16, sings John Mayer. She riffs a little in the number and makes it feel new. Keith is in love with it. They waste no time deliberating and send her to Hollywood.
Salt Lake City native Paisley van Patten moved to Nashville at 15 and signed her first recording contract. She became an alcoholic and left Nashville after losing everything. She's sober now and ready to go after her dream again. She and Keith bond over their shared sobriety and then she sings a Faith Hill song. They all love her.
Haydn Olsen is not fantastic. She gets a no from Harry and a yes from Jennifer. Keith gives her a no. That was the right call.
Blake Branscom is a country boy. He fishes for blue gill and women. And golden tickets apparently. He's going to Hollywood.
Jasper, Alabama boy C.J. Harris traveled to Utah to audition and sings "Soulshine." He dedicates it to his father. There's something sweet about his voice, but it's not very strong or powerful. Jennifer says 'it wasn't perfect, but I really liked it. I like you." Harry says there are probably better guitar players and singers around but there's something about him that works. Keith says he sings because he has to sing and not because he wants to sing. He gets a ticket to Hollywood.
Day two is dawning and J.Lo's red dress looks HOT! Seriously. She looks fierce! And Harry in the glasses! 
Tiquila Wilson starts the day off with "Someone Like You." She sings in her church and at funerals which prompts a pretty funny exchange between Harry and Keith. She's got a big ol' voice, but my worry is sustainability. J.Lo got goosies and Heather asks her how her church would feel about her singing secular music. "I really don't care..." Yep. That's the answer. She gets three yes votes and a golden ticket.
Male model and busser Chase Thornton is full of life. FULL. Bursting at the seams. But all that energy doesn't help him sing. He gets three measures in and Keith tells him he needs singing lessons. Harry and Jennifer shut him down too. 
After a series of bad auditions, Jessica Bassett comes in guitar and voice a blazing. Her voice is so pure and great! Harry gives her a no and so does Keith. Jennifer calls them crazy for letting a good one slip away.
Emily Rottler comes in and sings "Valerie." She has great teeth! And a great voice. Jennifer tells her that she's the real thing. Harry gives her a yes and so do Keith and Jennifer.
Dog trainer Dexter Roberts is a country boy from Alabama. He sings Casey James and they don't stop him. He's a loud guitar player, but he's good. Keith asks him who he listens to. "I listen to you!" Jennifer jammed during his entire audition. Harry said he sounds like the kind of guy who sings all day just to make it through the day. They send him to Hollywood.
Ally Roundy sings "At Last." Her audition is mixed with clips of Harry describing what he loves in a good singer. Keith gives her a no and tells her she needs more time. Jennifer gives her a yes. Harry gives her a no. They think she needs more time.
High school sophomore Briston Maroney's great-grandfather was a recording artist in Nashville. He's still playing that guitar. He plays Rolling Stones' "Can't Always Get What You Want" and all I can think about is Cory Monteith singing this on Glee. Briston has a unique voice though, and definitely a signature sound. Jennifer likes it and Keith hopes that there are shades to his voice. Harry's worried that Briston will lose his voice because of the grovel. They give him a golden ticket.
Johnny Newcomb, from Tennessee, sings an Eddie Vedder cover and the judges tell him he's too derivative and not original. He's good at emulating his idols, but maybe not ready. He asks to sing again and changes Jennifer's mind. Harry still gives him a no. It's up to Keith to crush his dreams. "If you have a real dream, it's uncrushable. I just want everyone to hear that clearly," Keith says. Then he gives Johnny a yes.
"Next!" says J.Lo. 
"You sound like a dentist," retorts Keith.
"It's business," J.Lo replies.
Harry, to Jennifer: "You know, I would eat an entire package of Oreos just to go to the dentist and have you clean my teeth. If that's what my dentist looked like."
Next!
Opera singer Kimberly Toste decides to audition with "Barracuda." Jennifer can't find a camera to look into where she can adequately convey her disbelief at what she's hearing. They all say no. That was the right call.
Carmen Delgina has performance in her blood. Her father is Wonder Mike from the Sugar Hill Gang. Her performance is a little off and not very strong at all. Harry says her vocals aren't very strong and Keith says she's lacking confidence. They give her another chance and send her to Hollywood.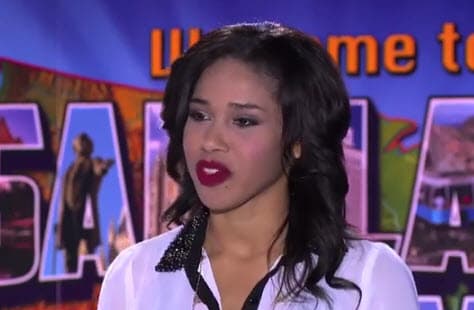 Kassandra Castenada comes in and has an incredibly awkward fangirl moment where she tells J.Lo how beautiful she is and then passes the judge her uncle's phone number. But then she sings "Chasing Pavements" and it's really pretty. Harry doesn't think she's ready and while he's critiquing her, Jennifer tells Keith she thinks Harry's crazy. Keith agrees with both of them and sends her to Hollywood.
Kenneth "Woodie" Gaddie has a big voice and gets a ticket to Hollywood while the final audition of the night, Casey Thrasher, waits in the Chamber. He has two small children, Bailey and Brecken, and he wants to give them a better life. He chooses "Believe" by Brooks & Dunn and credits an experience with Keith at the CMA awards for giving him the courage to press on in his journey. He chokes up during his audition but keeps going. Keith and Jennifer loved it. Harry loves his drive. They give him a yes and he leaves the room in tears.
I liked him. A lot. I'm a sucker for a good story.
The ticket count grows to 193 after 30 more tickets were handed out in Salt Lake City. The Utah city seemed to be a hotbed of talent among the high school crowd, but that's not necessarily a bad thing. I question whether the average 15 year old has what it takes to make it through Hollywood and beyond, but there's nothing wrong with giving talented kids a second chance. 
What did you think of the American Idol Salt Lake City auditions? Was Salt Lake City the most talented city we've seen yet?
Miranda Wicker is a Staff Writer for TV Fanatic. Follow her on Twitter.