Archer Review: Game-Changer Alert!!!
Robin Harry at . Updated at .
Hey everyone! I've just started covering Archer for TV Fanatic and, man what an episode to start with.
In the words of Pam Poovey: "Holy $h!+snacks!!"
There are game changers, and then there's the Archer Season 5 Episode 1 complete overhaul. Kudos to Adam Reed and friends for not being afraid of change and keeping things fresh.
They changed everything that drives the plot, changed the mission-of-the-week procedural format to one with a plot arc for the season and the setting is no longer the ISIS office. They went from spy agency to drug cartel in 20 swift minutes. And it's FREAKING AWESOME.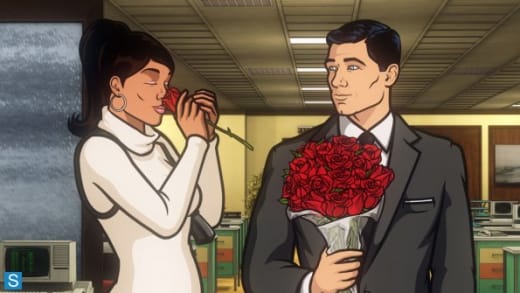 The changes are fantastic and will undoubtedly work because the two most important things about Archer stay the same: the characters and the humor. In this episode, there were no shortage of one-liners and all of their interactions were pretty much classic them.
I loved the beginning sequence, with Archer walking in with a bouquet of roses to the serene sound of the William Tell Overture, and ISIS employees ballet dancing across the office. It was calm, giving no indication of the total upheaval that was going to happen next, both for the ISIS crew and for us viewers.
The stormninjas of the FBI invaded the office, poorly identifiable and guns a-blazing. The FBI swiftly arrested everyone for treason because Malory never got permission from the government to conduct espionage missions. They all got hauled off...well almost all of them. R.I.P. Brett "Mr. Bloodmobile" Buckley.
He died doing what he loved...getting shot.

Archer
Though Malory pleaded with them not to rat on each other, most of them tried to cover themselves with a deal and snitched, resulting in a pretty well done recap of the previous 4 seasons (pirate viruses and actual pirates!). 
The only ones who didn't cave were Archer and Lana, who busted themselves out of custody using a hilarious mock-fight with one of the most hardcore exchanges of insults ever on the show:
Lana: Screw you, Mr My-mother's-a-lying-bitch-and-I'm-too-stupid-to-realize-my-life's-a-pathetic-joke!
Archer: Nice to meet you, Mrs Hello-my-kid's-from-a-sperm-bank-since-I-can't-keep-a-man-because-in-addition-to-my-jillion-neuroses-I-have-a-weird-looking-vagina!
I honestly thought Lana was going to shoot him after that. However, it was interesting how that diss was followed by my favorite scene of the episode: Archer asking Lana to marry him. Archer loves Lana and wants her child to grow up well-adjusted and with a family. 
I mean,  his only wish last season when he found out that Lana was pregnant was for her to be a better mother than his own. All that made Lana's brutal rejection of him...well, OUCH.  I think, given the chance, Archer would actually do right by them.
Although, we don't really know how well the wee baby Seamus is doing these days...
I really want to know who Malory knows that had the power to get them off these charges. But even more so, I want to know how ISIS ended up their white elephant:  a literal TON of cocaine.
So now the ISIS crew is a drug cartel, and Archer becomes Archer Vice. We need not fear the change though, because if Archer's "imagination sequence" is any indication, not only is this going to be a fun and crazy season, we'll be treated to some great callbacks as well from the good old ISIS days. 
The comedy possibilities of this gang of misfit spies becoming drug dealers is figuratively endless.
And now some more things from this episode that make Archer...well, ARCHER.
Running jokes:
"Mawp!!"
"Who's Beeker's boss?!" (Cyril did sound just like Beeker)
"I'm seriously asking!"
Classic Them:
Malory's racism: "How hard can it be....if Mexicans can do it..."
EVERYTHING about Krieger's arrest.
If You Blinked You Missed It:
Krieger's holographic wife was reading G-Man porn while they were being arrested by the FBI.
Disses/One-Liners:
Cheryl: "You're all jealous of my fall-back career!"

Pam: "As what, an ACTUAL acorn?"
What did you think? Are you onboard with the show's overhaul? What was your favorite scene? Favorite quote? What did I miss?