It's always refreshing when Criminal Minds abandons its traditional storytelling for a week, isn't it? 
The start of Criminal Minds Season 9 Episode 12 was amazing.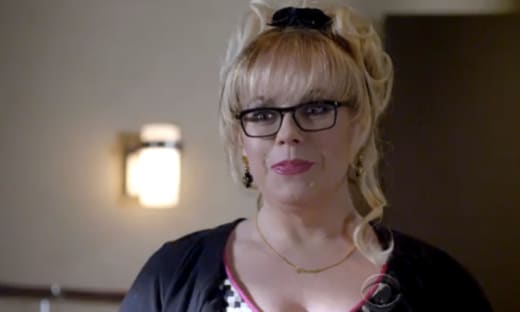 Seeing the always-lovely Garcia handcuffed to the BAU interrogation room table in all of her dark gothic glory and badass attitude was startling. I didn't know at first if the scene was real or a dream.
Turns out it was a flashback to the start of her BAU career. 
Garcia: I'm a psychopath.
Hotch: No you're not.
You could almost imagine the smirk on Hotch's face when he said that, after which he outlined all the behavior that pegged her as the opposite of a psychopath.If anything, she was guilty of having too much empathy. So much that she broke the law in order to help people, in her own way.
Although the case itself was enjoyable (minus the prostitutes getting killed), the peripheral stuff was more engaging.  Luckily, the case intertwined with all of it, which made for a fascinating episode. 
It's hard to imagine a situation where a killer goes to death row, but doesn't snitch on his partner in order to save himself from execution. Especially as the clock ticked down to his final hours. That seemed a bit odd. Of course, he did have his partner's token set of prayer beads with the macabre lock of a victim's hair. 
This was supposed to show that his partner was still working to get him off. Uh huh. 
No one has ever accused criminals in jail of being too smart. Maybe that was the case with him.
On the other side of the intelligence spectrum was the chief of the nerds, Garcia's former lover/partner Shane Wyeth (played by Paulo Costanzo, of Royal Pains fame). I think many might know of narcissistic people like him who live to argue. The writer nailed his toxic character with precision. Garcia was right to escape from him, rather than continue to fight, hoping to convince him to change.
Hardly ever do we get a chance to laugh out loud, so that horrific sexual harassment seminar at the BAU provided a brilliant opportunity. It was fun watching Garcia getting more and more embarrassed as so many of her and Morgan's flirtatious talk showed up in the presentation.
When the presenter uttered the forbidden phrase "more cushion for the pushin'" and Derek Morgan put his head down, I howled. 
You can see why Wyeth mistook them for lovers. For much of Criminal Minds Season 8, I wondered about that too: not everyone who knows these two will understand that this is the flavor of their friendship at work. Wyeth seemed inordinately jealous, however:
You chose this guy? You chose a brainless, metrosexual action figure?

Shane
Final notes:
The scheme to protect prostitutes from legal charges was rather elaborate and, most of all, viable. The "Bitcoin" currency is real, and can be used (and is used) to fund items and services that are not legal. (It's also used for legitimate purposes as well, however). And the idea of having data deleted if someone doesn't log into a system within a certain timeframe is also doable. The writer thought this through.
It's been a while since we've seen Morgan with a head of hair, wearing a full suit. That too was a surprise.
Morgan wasn't the first to call Garcia "baby girl." Okay then. So who was? Do we know the guy? If not, will he be introduced?
Garcia's promise to have Morgan and herself put a shoe on their head if they lose to Wyeth has its roots in geekdom: it's a way of humbling yourself on the net.
What did you think of this episode? Do you want to see more of Garcia's past? What are your thoughts on the Black Queen?
Should Morgan and Garcia cool it with the flirting?
Douglas Wolfe was a staff writer for TV Fanatic. He retired in 2016. Follow him on Twitter
.