The year is 1922 and Downton is aghast that Miss O'Brien has taken off like a thief in the night, up and leaving Lady Grantham without help.
Whatever will they do? Anna decides to leave Lady Mary in the lurch to attend to Cora and everyone discusses how Lady Flincher stole O'Brien.
And so it begins... another entry for Downton Abbey into the mini-series category for awards season so they don't have to compete with traditional dramas. That made sense when it was a one-off series, but as we're on the fourth series (Downton Abbey Season 4 as we Americans call it), it seems strange.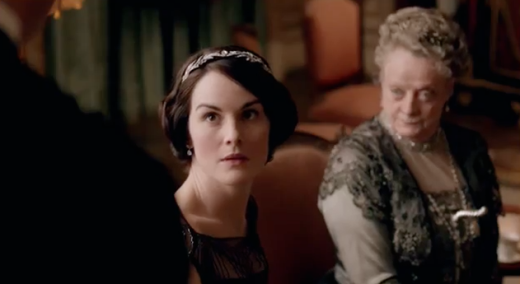 Does anyone really care that O'Brien is gone? I'd like to have seen a party be thrown in honor of her departure, but with Mary still concerned about her "poor little orphan" George, it was enough just to have something else to think of rather than Matthew's death.
One of the oddities of watching Downton as a Masterpiece Theater production is the premiere is offered as a two-hour presentation. It's happened before, but never as much as with Downton Abbey Season 4 Episode 1 – the two hours together didn't fit well.
The first hour felt fresh and interesting, while the second fell flat. The momentum wasn't matched, and it made for a sluggish two hours overall.
Given that PBS isn't exactly bursting at the seams with programming during the year that is competitive within the Nielsen market, I can't help but wonder why they choose to combine installments, thereby shortening the span of time they have available to play with the big boys. Would leaving Downton on for two additional weeks cut into their pledge drives? If anyone is reading, I'm interested to know their reasoning behind combining and shortening the season.
Robert wants to abandon all of Matthew's plans for Downton's future, and since Matthew left no will, his half of Downton falls into baby George's possession. Rather than worry Mary with looking over his business, Robert feels it's in the best interests of all for him to do that for her. Of course he does. Having never been on board with Matthew's plans in the first place, it's difficult not to think that part of him might see Matthew's death as a bit of a blessing as far as the future of the estate goes.
Tom, lovely Tom, thinks of Mary first and wishes to wait for her input. Cora stands with him in her belief that Mary should be handling all affairs on behalf of her son. It's easy to see how things might go awry and Robert could end up being put out. His idea is for Mary to concentrate on feeling better by not worrying about anything else, as if crying in her tea will somehow help her get back on her feet.
Unfortunately for Robert, Matthew was far from stupid. Although he hadn't gotten around to a full will since died so shortly after George was born, he did have something in writing leaving everything he had to his darling Mary, knowing fully well his child would be a baby and hardly able to run anything if he were to die. I'm surprised Robert's head didn't explode.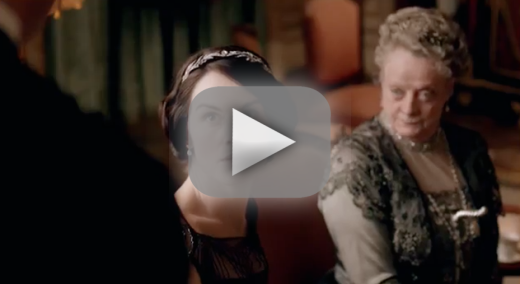 The majority of installment was about the women of Downton and how far things have come for them as a class; Mary discovering she's half owner of Downton, Edith having dinner out at a restaurant (with a married man) and Rose and Anna out dancing. Those things just weren't done before the war.
Mrs. Hughes discovered a fellow Carson used to sing and dance with. I know, right? Who reading this can imagine stodgy Carson singing and dancing? Well, apparently he did with a chap named Grigg who looks an awful lot like an older Jack Lemmon. Mrs. Hughes seemed to make it her mission to get Grigg back on his feet, which was a shame, really. Molesley could have used that same upward hand, but she didn't think to lend it to the man she knew so well.
And yet for as far as people have come, there are still women studying to be lady's maids. Edna Braithwaite, who left Downton under less-than-honorable circumstances after hitting on Tom, managed to make her way back into the house without anyone being the wiser. Once it was done, there was little to do to take it back. Somehow the singing, dancing Carson put it all on Tom's head and was determined to ensure Lady Cora was never the wiser.
Braithwaite has already found a partner in crime with Thomas and I'm sure we will see them getting into all sorts of trouble before the season is out.
It's difficult to believe that the tone of Downton Abbey feels heavier than it did when the Abbey was being used as a recuperation center for officers during the war, but there aren't as many comical moments as I would expect, and only one laugh out loud comment from the Dowager Countess at Isobel's expense. Since the series has already aired in the UK, it was difficult not to get a peek into what lies ahead, and I was hoping the earlier days would promise some light. Perhaps this is the year of the war of the heart.
There was a lot of talk about romance, and we even learned Carson had once been in love. Could the time be coming for Carson to put the moves on Mrs. Hughes? Perhaps seeing his old friend Mr. Griggs dislodged the giant stick that has been lurking in the darkness on up in there and he'll start to feel something other than disdain for the rest of the household staff. 
For a full rundown of the events of the evening, head on over to the Downton Abbey Season 4 Episode 1 recap. If you've missed any episodes of Downton, be sure to watch Downton Abbey online and as always, leave your thoughts about the episode in the comments.
In the meantime, let's take a diversion and opine on whose romantic life are you most interested in. Take the poll!
Carissa Pavlica is the managing editor and a staff writer for TV Fanatic. Follow her on Twitter.