Welcome back from holiday vacation, my Upper East Siders! It's time for the rewatch of Gossip Girl season 1 episode 12.
While all of Gossip Girl season 1 was pretty incredible, compared to the rest of the episodes, "School Ties" was kind of filler. Don't get me wrong, it was good, just not THE BEST.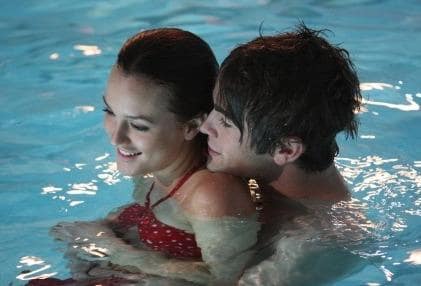 Now that Chuck and Nate have returned from their tropical Christmas, Chuck was hell-bent on keeping Blair and Nate apart. Those weird butterflies he described having in Gossip Girl season 1 episode 8 have fully formed into...(gasp!) feeling. Yes, Chuck Bass felt love for a girl.
That girl is dating his best friend in the world and despite his love for his BFF, he doesn't want to see it! Blair and Nate in the pool, pretty hot. If you were Chuck would you want to be eyeballing that? I mean Chuck is kind of twisted so ya never know.
Serena was trying to show how reformed she was in that one-piece bathing suit. Well as reformed as she could be while she was trespassing on school property with a group of friends and cocktails. Despite the new closeness she and Dan were feeling, both physically and emotionally, there are a few harsh reminders that they will always come from different worlds.
Vanessa: So Dan, what will it be? Cheerios and Chaucer, or an illegal party at your prep school pool with your high society girlfriend and her nasty cohorts?
Dan: Dad? Vanessa and I are going out!
Dan attends St. Jude's on partial scholarship and he's the only real person at risk of losing it all when something bad goes down. Everyone else is in the entitled position of basically telling the authority figures at school to suck it. Would the old Serena have turned herself in after a kid got hurt? Eh she might have felt guilty and numbed that guilt by partying with people like Georgina Sparks.
But the new Serena? She's so in love with Dan that she's not willing to drag him down with her. When Dan basically has his point proven that people like Serena don't suffer the same consequences as the regular people of the world, Serena feels insulted. It's not until her new stepdaddy Bart Bass informs her that he had to make a really large donation to keep her from getting expelled. I guess it's a good thing she begged her mom not to run off with Rufus.
After all she'd rather be Chuck's stepsister than Dan's. Even if Chuck is sort of, uh, into the incest idea. Ew. Like I said before: that boy is twisted!
Chuck: You know, if my dad and your mom come back from South Africa tomorrow engaged we'll be brother and sister. And you know what they say, the family that plays together stays together.
Serena: Ah. Incest, the universal taboo. One of the, uh, only ones you haven't violated.
Chuck: I'm game if you are.
So Serena learned her lesson, even if she was proved wrong in the end. She knows she needs to start making better decisions. She ended up at Dan's even though he was the one who kind of made her embarrassed for the life she grew up in.
Serena loves him and I think Dan was the one thing that always made her want to be a better version of herself.
What do you all think? Was Dan Serena's best inspiration for redemption?
NOTE: Remember you can watch Gossip Girl online right here and now!