As all good Grimm episodes are likely to do, Grimm Season 3 Episode 12 ended with the "To be continued…" card.
The biggest development was Monroe finally popping the question to Rosalee! It was quite adorable and imaginative - proposing with a cuckoo clock - and it fit Monroe's character so well.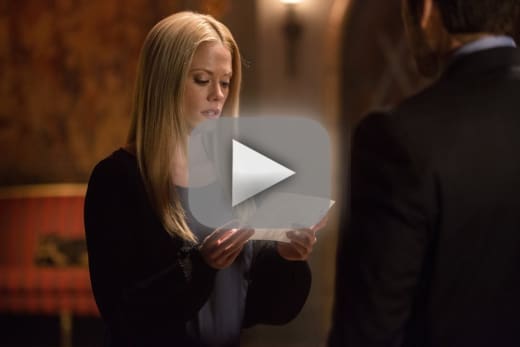 It's interesting that Monroe and Rosalee have had a rather simple and easy courtship together. They fit together well and they don't view themselves in the same ways or ideals that their families do.
It's only fitting that the biggest obstacle in their marriage right now is Monroe's family. Rosalee's family gave Monroe some flak last installment, but they eventually came around to him. It remains to be seen if Monroe's parents can get past "the natural order of things" and see how much Monroe and Rosalee love each other.
It's unfortunate that Rosalee walks out in the middle of things, but her decision to do so is understandable. It's a close to hostile environment and Monroe needs figure out a way to get his parents under control and explain things in better detail.
With Nick showing up at the door, those calm talks are probably not in the cards at the moment. Although, if Mama Burkhardt is able to get past Nick teaming up with Monroe and Rosalee, then surely Monroe's parents can look past Monroe marrying Rosalee and being friends with Nick (so long as they don't smell his room).
Speaking of Nick's mom, Juliette decided to get in contact with her and, surprisingly, she responded. Using Juliette as a conduit between Nick and his mom is a good idea. It gives Juliette a chance to get to know Nick's mom a little better (assuming the emails are semi-frequent), and it gives her something else to do besides read the books in the trailer or do something veterinarian related.
Back in Vienna, Adalind's baby was beginning to push up against the walls of her stomach. To be honest, I was mostly expecting the little royal to come busting right through her with the way it was pushing. Perhaps with Stefania telling Adalind it's time to go in hiding, she will finally get some decent story; so far all Adalind has done is walk around that hotel room and tell the royals next to nothing.
The Royals and Verrat are doing more than they've been leading on to. quickly deducing that Eric or Renard is the father of Adalind's baby and even attempting to use her to get more information on the resistance. Sebastian needs to be careful around his bosses, though, his wandering eyes are rather noticeable.
Finally, the Wildesheer case didn't take up much time in the installment, but the guy did sew together a mean scalp-suit.
Grimm Season 3 returns February 28.
Will Monroe's parents accept Rosalee?