Justified Review: A New Kind of Family

Dan Forcella at . Updated at .
Now that Breaking Bad is off the air, I consider Justified the best drama on television.
And with the return of Raylan, Boyd and company - along with the appearance of the always interesting guest stars - the Justified Season 5 opener lived up to that billing.
Whether it be the Crowders, the Bennetts, or even sometimes the Givens, the series has always been great in telling stories about troubled families.
Justified Season 5 Episode 1 proved to be no different with its introduction of the Crowe crew.
Between the aggressive and controlling Darryl, the sneaky and feisty Wendy, and the now ridiculously wealthy Dewey, the Crowes should be a ton of fun for however long the stay on our TV screens.
With Darryl stating that there was nothing left for them in Florida, I expect these goons to stick around Kentucky for a while.
Raylan's trip to find the Crowes and their Cuban friend Machado was filled with non-stop entertainment. There were gators jumping out of the water, brothers turning on brothers, Raylan deciding not to see Winona and the baby and the ever enjoyable David Koechner spewing wise and sage-like advice to Raylan as Deputy Gregg Sutter.
With the cowboy down in the Sunshine State and Boyd up in Detroit for most of the hour, next Tuesday will likely be our first real return to Kentucky.
How great were the twists and turns of Boyd's story? Who would have thought that they would get Boyd into this racket with Detroit only to kill off nearly everyone involved in the Detroit mob in the first episode of season five?
With ID pulleys and chainsaw guys, I don't think Boyd and Wynn Duffy were made for that world anyway, so I think we're all better off with them turning their attentions to Mexico.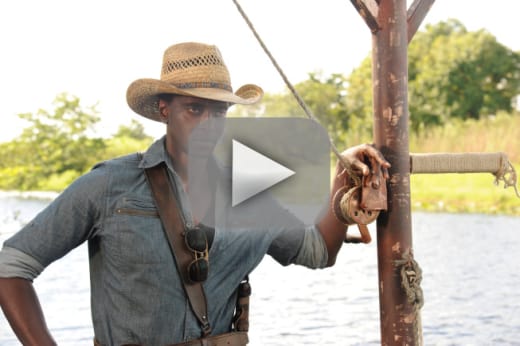 I loved the shock factor that went down when Mr. Picker decided to side with the Canadians and gunned down his boss, Sammy Tonin. I was more in awe than Boyd and Wynn...and they had blood splattered all over their faces.
As great as that scene in the high rise was, I probably enjoyed their meeting with the Canadians even more. Granted, it is mostly due to the fantastic casting of Dave Foley and Will Sasso as the mobsters.
The line of the night came out of the calm mouth of Foley's character when he stated: "The idea behind organized crime is that it's supposed to be organized."
He's right. That Detroit business was as messy as it gets. I'd stay as far as way from it as possible, which is what the Canadians are going to do, and that's why Boyd will have to get involved with Mexico if he wants in the drug game.
As a last resort to get Ava out of prison, he made one final bloody stop. Mr. Paxton went down without a fight after refusing Boyd's offer, but you have to wonder if leaving his young wife alive will come back to haunt him. It seemed like he was wondering the same thing when he turned back and looked inside before shutting the door.
"A Murder of Crowes" was a great start to the season. What did you like about? Was there anything missing? How much trouble are the Florida Crowes going to be in Kentucky?
And who is your favorite Crowe?
Dan Forcella is a TV Fanatic Staff Writer. Follow him on Twitter.