Ravenswood Review: Let's Make a Deal
Leigh Raines at . Updated at .
After a terrifying nightmare that nearly killed Remy, Abadon and his Pharrell Williams hat steered clear of Ravenswood for the week.
Instead, we finally got an answer about Dillon on Ravenswood Season 1 Episode 9.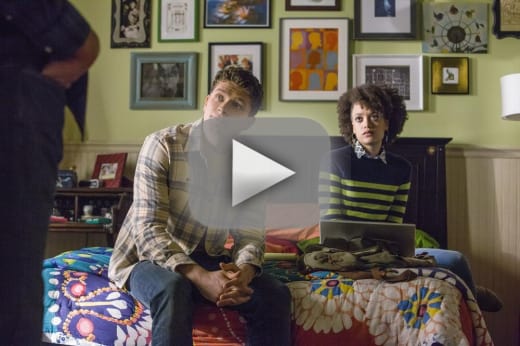 Unfortunately, we also watched Rochelle Matheson get arrested for the 100th time. Yo, Ravenswood police, if you're going to arrest her over and over again, why not just keep her there?
Or maybe Rochelle continues to gt punished because Luke and Olivia keep escaping the grips of the pact. It does pose an interesting theory, doesn't it?
The preacher said, "it's not random, debts are owed." Liv, think about it, we were supposed to die but we didn't. And now the people we care about are disappearing one by one.


Luke
If Dillon has any credibility, we learned tonight that you can definitely sacrifice somebody else in the pact in order save your own life. That's right, Dillon sacrificed Olivia. Dillon knows about the pact and gave up his own girlfriend in order to save his life. Not before he screwed her, though. I mean, these teenage boys, they are just so darn predictable!
Also Liv, my sweet Liv, does she really think she knows Dillon better than anyone because they slept together? That is painfully naive, but also completely typical of a young girl who just gave up her virginity to the guy she thinks she loves.
Of course she's going to think that Luke is flipping out because he's being an overprotective brother, not because he thinks her boyfriend is involved in a pact with the devil.
After a clue from Mr. Price about the chapel on Collins' property, Caleb and Miranda sought out a way to get in there. Caleb had an unsettling incident in the embalming room but they got the keys and made an interesting discovery. When the light hits the tiles a certain way, the names of the people who signed the pact are shown. Also there are six names, not five.
So why six? Maybe because it's a number associated with hell and the devil? Any other theories?
The only one of the five whose last name appears is Caleb's. There's also Dillon's last name, "Sanders." So Dillon really was supposed to die after all. But what about the other names? I'm thinking that maybe one of the original signer's descendants gets killed in rotation every time the pact is set in motion.
So how did Dillon figure out how to make a deal when no one else did?
This episode was confusing, per usual, but one thing is for sure: Ray Collins has an affection for Rochelle Matheson. He's the one who keeps bringing her home and offering to be there for her and her family. Olivia finally took the bait and asked if he could help with the bail.
Do we finally fully trust Creepy Collins? Vote below and then sound off in the comments before the season finale!