There were some really great moments on Switched at Birth Season 3 Episode 3 - but overall the stories felt rushed. Considering the weight of a couple of them, they didn't necessarily get the attention merited to finish.
There were some takeaways that made the hour well worth the watch, and if I get that from watching a program on ABC Family, how can I complain?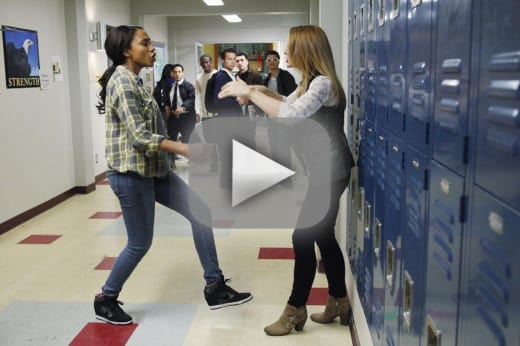 I was wrong last week when I noted in the Switched at Birth Season 3 Episode 2 review that it was Natalie who was slashing tires and mutilating cars. It was Matthew. I should have known. He was the trouble maker during the Carlton takeover. However, I rewatched the scenes, and it still looks like a girl wearing the jacket, so they may have tried to double cross me. 
Emmett was left with the burden of watching a school in turmoil as new students tried to fit in while feeling poorly about themselves and old students thought they were being singled out when all along it was one delusional deaf student thinking he was righteous for all the wrong reasons. 
Because Emmett didn't speak up sooner (thanks for your wisdom Travis), Daphne and Sharee were fighting and Sharee even got expelled because she had a box cutter from work in her backpack. It never pays to hold back on the truth when people you know are getting hurt. 
Daphne and John finally cleared the air between them and she's even free to rob a couple banks without the fear that she'll lose her place in the home. Of course we knew that all along, but it was nice that John finally made that clear. It made sense from his point of view, as well. He wants to toss in 16 years of life lessons that she missed out on without realizing it makes him look like an ass and her feel like a failure.
I was surprised that there was no follow up to Katherine's announcement that she was seeing a psychiatrist. She's still grasping onto anything in her path trying to stay afloat, as Toby learned this week. If she doesn't steady herself soon, I'm afraid she might try to commit suicide or something. All the new friends in the world don't make up for a hole in your heart when you think your family is drifting away from you.
Equally surprising is that we haven't yet heard another peep about Angelo and his financial situation. We know he has issues that make investing in K&D challenging, but Regina is still moving forward. I wonder if her meeting up with Wes and his belief in her is paving the way for him to be the one to pick up the pieces when she's not able to buy the company outright with Angelo's assistance.
At first, I was appalled at Wes' behavior in Denver when he accused her of throwing her career away to take care of grown kids. But when he returned to apologize, the side of him that he shared was awesome. One of the very best working relationships I've ever had came with a discussion that ended almost word for word like this:
Wes: I'm passionate. I can't promise I'm not going to yell at you.
Regina: I can't promise I'm not gonna yell back.
Wes: Works or me.
Knowing your boundaries and that you can yell and get things out in the open without penalty is so refreshing. I wish for all of you who are reading this to work with someone in your future with whom you can share that relationship. Work, in general, is frustrating. There's a reason it's not called play. When you have to walk around on eggshells because you're worried you might say something that will offend the person you work with or for, it can be painful. Regina and Wes are going to make beautiful projects together.
I was equally impressed with Bay's decision.
You know what I decided? I'm not letting unhappy people decide what I get to do.

Bay
She was so impressed with Professor Ledarsky and wanted so badly to include a letter of recommendation from her for her early admission paperwork, but when she saw the life of an artist up close and personal, she started to have doubts. Every day we doubt our decisions and make them based on things that might have nothing to do with us. 
Bay was being influenced by her professor's unhappiness, but it was only unhappiness in that moment. Overall, I don't think Professor Ledarsky would look back at her life and change things. She was disillusioned with the way things had gone recently. 
I'm looking forward to seeing what happens with Regina's work, Daphne's friendship with Sharee and Toby, when Nikki finally gets home. What about you?
If you've missed any episodes, be sure to watch Switched at Birth online any time, right from our site!
Are you ready for Emmett to have a story of his own?
Carissa Pavlica is the managing editor and a staff writer for TV Fanatic. Follow her on Twitter.