The Tomorrow People Review: Always Fighting to Survive

Michelle Carlbert at . Updated at .
Okay, fair warning: Major amounts of gushing and squeeing ahead. You have been warned.
I know you guys are going to think that the only reason I loved The Tomorrow People Season 1 Episode 12 is because of John's story.
While it's true that I l did indeed enjoy every bit of that, the truth is that this was just one heck of a strong episode. Any time a TV show can make me cry I give it high marks and this episode did exactly that, not just once, but a couple of times.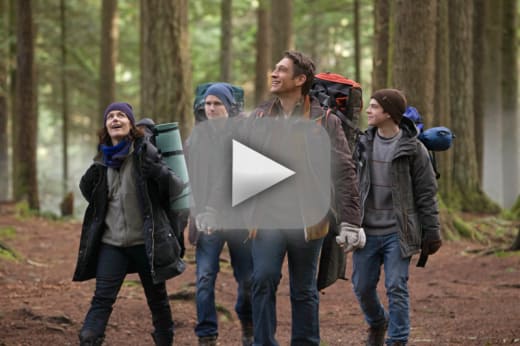 First of all, can we talk about the action in this one for a second?
Between John teleporting just in the nick of time to save Astrid, Stephen shoving Peter off a cliff (oops), Cara busting her way into the building and then she and Astrid shooting their way almost out, it was enough to just about give me a set of the vapors.
You can check our browsing histories? Not that I've looked anything on the internet that I'm ashamed of

Russell
Beyond the action, there was a ton of story happening in this episode as well. That scene with John and Astrid has now become my favorite scene on this show, hands down. It just revealed so much more about both of them: Astrid sharing her wishes for her future life and John realizing that he'd never thought of his own future.
All of it was beautiful.
John: If you notice anything weird.
Astrid: Like being stalked on the Uptown 3 train?
Because of what happened with Astrid, we got another piece of the puzzle that is John's past and this time we found out what happened the first time he dared to reveal his powers to a regular person.
It turns out he has good reason to tell people not to let regular humans in on who and what they are: It can end up getting your friends killed. But though it was brutal, that action led John to become friends with Roger, which may have been something he needed right then.
I've always been fighting to survive. Never thought about how I'd want to live if I had the option. Never had dreams like that.

John
Now that Astrid has moved into the caves, it feels like the show is trying to put a lot of the characters into one place. Personally, I'm on board with this idea. I think that having everyone mostly in one base will make for a lot of interesting interactions between them.
One thing I have to admit I didn't see coming was discovering that Stephen's little brother Luca was breaking out into his own powers. I'm kind of embarrassed to admit that because it should have been obvious.
I've even thought of Luca getting powers, but for some reason I really fell for the whole "Peter is a bad paranormal" story. So feel free to ridicule me for letting that little plot point slip right by. 
John: Dammit, you're stubborn.
Cara: I'm in charge now, remember?
All in all, this episode was exhausting, and I mean that in the best possible way. I'm feeling a very strong need to rewind my DVR and watch it again immediately, which is a very good sign.
My favorite bits:
Russell worrying about Tim looking in on their browsing history.
John volunteering to check in on Astrid.
Stephen going straight to the dark place when wondering what Peter could do to his family.
Russell's semi-coherent jokes. Unlike Cara, I found them hilarious and I didn't have to pretend at all.
Jedikiah pointing out that killing humans for the greater good wasn't a cause for celebration.
Stephen apparently tricking Peter into using his powers.
John leaping in to save Astrid just in time. Whew!
John realizing that Astrid loved Stephen.
John asking Cara to sing for him to take his mind off the pain. I was so in love with that entire scene that, if I could, I would have married it.
Astrid's bucket list.
Astrid singing to John when he lost consciousness and then seeing his memory replayed. I don't know what made me cry harder, Astrid's voice, watching John's friend get killed or Jedikiah holding him and telling him it would be okay.
Cara finding a way into the building, without teleporting.
Astrid figuring out what to do with the machine gun.
John sharing with Stephen the memory of the first time he met Roger. Dang it, here come more tears.
Stephen admitting that he might have accidentally shoved Peter off a cliff. Oops.
Stephen realizing that it could've been his brother with the powers all along. Oh boy!
When did you realize that Luca was the one with the powers?