When Lestrade returns to, once again, work alongside Sherlock Holmes, old wounds are re-opened and lines are tested.
On Elementary Season 2 Episode 16, Lestrade realizes that the good life he leads now isn't all what it seems to be.
All the while, Sherlock tests his own conditioning skills by training two fighting "cocks" to be able to co-exist in peace.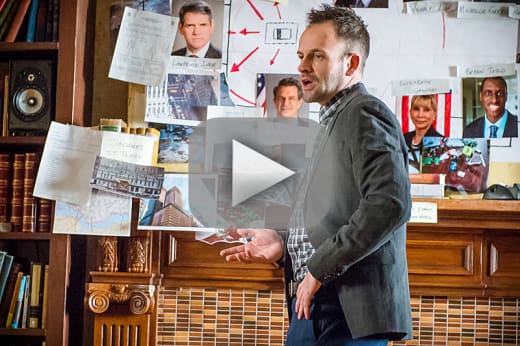 I have to admit that I really liked Lestrade by the end of this hour. We first met in him Elementary Season 2 Episode 1 back in London and we were not shown anything worth salvaging in him.
At the beginning, we saw the Lestrade we were used to seeing: arrogant, cocky, self-centered and chatty Cathy about his newly found success. Not only annoying Holmes and Watson but also driving us viewers mad! I can only handle one character like that in this "universe" and that is Sherlock Holmes himself.
Then, in a twist, Lestrade admitted that his job wasn't all that glamorous and that he was dramatizing his wealth in the hopes that Sherlock wouldn't think of him as a fool anymore. Truth be told, he was now a pimp for his billionaire Wall Street boss, Balsille, who had a major sex fetish.
As Watson put it, he was a "serial indecent proposer."
Who would have guessed that the bomber was tied to Balsille and his indecent proposals? I can honestly say that this wasn't one of those episode where I guessed the killer mid-way through the investigation. Actually, I didn't guess it at all.
The reveal was a little anti-climatic as we didn't get to see much of the bomber other than about on minute in the beginning.
Elsewhere, Sherlock was tending to two fighting roosters, or cocks as Watson refused to call them. Holmes was convinced that with the use of negative and positive reinforcement the two cocks could live together harmoniously.
I can't imagine the sort of life that Watson leads living with Holmes. Every week it's something new with him, from various coitus partners to random experiments to expand his knowledge. At least he's a good cook and he's clean. Well, with the exception of the roosters.
Best quote of the night came from Watson when she said, "I don't care what cock this is, I just want to know how it got here." Then it was proceeded by a smuggish grin from Sherlock as Watson realized she called the rooster a cock. Even during times of bombings and murders, these two find a way to put a smile on our faces.
Did I mention the "Bad Day" song (by Daniel Powter) that was as Lestrade's ringtone for both of our favorite detectives? They never seize to make us laugh.
Overall, this was a great episode to come back to after a three-week hiatus. Elementary Season 2 Episode 15 felt like a filler episode and so did this installment; however, bringing back a character like Lestrade raised the stakes a bit more.
The great thing is that there are eight episodes left in Elementary Season 2 and that means that we can only go up from here, so let's all mentally prepare because this time last year, Elementary Season 1 blew our minds.
What character do you want to come back during the remaining episodes of the season?