Michael Cudlitz Teases Walking Dead Character, All-Important Mission Ahead
Jim Halterman at .
You got a damn mouth on you, you know that? What else you got?
And with those words on The Walking Dead Season 4 Episode 10, we met Sgt. Abraham Ford.
The character, known well to fans of the graphic novel series, is played by Michael Cudlitz, who captivated us for five seasons as John Cooper on TNT's wildly underrated Southland.
Needless to say, Ford is no Cooper -  and, as Cudlitz told me yesterday, we'll soon find out about the man's backstory as well as his mission... although we may have to wait a bit before we fully know if Ford is friend or foe to the band of apocalyptic survivors we've been following for four seasons.
As for how actor feels about reddish orange 'do? Read on for this answer and many others...
TV Fanatic: What will we see from Ford next week? What will we learn about him?
Michael Cudlitz: There was a family incident when the apocalypse...mine was a little more extreme and dealt more with humans than walkers. I'm not going to tell you the specifics of it but if you want to go back you can very easily go back to the comics.
What [showrunner] Scott Gimple is telling me we're doing here is we're also adding in a whole other segment of time from the time that that incident happened and the time now that he is meeting with the group. Some other stuff had gone down that wasn't necessarily talked about in the comics but certainly could've happened even in the comic world but they'd never talked about it. The implication is that I was part of a larger group…over time we're going to learn more about them.
TVF: How are the challenges different for you as an actor with The Walking Dead?
MC: It is a whole different thing and I'm still finding Abraham but I think by the end of this chunk of episodes, I'll have a real specific sense of where I think I'm headed and how I'm going to play him. I've been able to take a lot of risks.
There are two things going on. The world of The Walking Dead only works if everything is grounded in reality, except the fact of what that reality is meaning we have corpses that come to life. Now, if you take that as a given of the world, everything moving forward from there needs to be as grounded as it possibly can be in order for it to work. The stakes have to be so high and it literally is life and death in every situation. If not, if you don't take that seriously, none of that works.
The thing is, the character of Abraham is just an over-the-top character but he's grounded in reality. There are personalities out there that, from the outside looking in, you know these guys, you've met these guys. Stereotypes are stereotypes for a reason. Abraham, and the way Robert Kirkman has created this guy, is that he is so bigger than life to the orange hair slicked back, the handle-bar mustache…he knows what he's putting out there as everyone does and it's for a reason.
Here's a world that structurally doesn't exist. There is no society. There are people living individual lives so what does every individual need to do to survive? This is his survival mode and Abraham's way of doing things. It's big, it's bombastic but it has to be completely grounded in reality or none of it works.
For me, the trickiest part has been finding that balance of how big is too big? How big is not big enough? And really skating that line because I want him to be as big as he possibly can. Either way, that's a risk.
TVF: Does Abraham have a moral compass? What can you say about that?
MC: Absolutely. He's got things going on that he's trying to make right. In a lot of ways, he shouldn't be here and this huge, huge thing that happened that he may have handled inappropriately, may have gone too far and basically the loss that he experienced is so huge it may take many lifetimes for him to sort of balance the half with doing good.
He's on a mission right now that is connected to that emotionally. It is the most important thing in the world to him right now, to take care of his mission. The mission comes before anything else.
TVF: Will we see flashbacks at all? Or can you not talk to that?
MC: I don't think I can talk to that but we will definitely learn about his past.
TVF: How was it just joining the show and the cast? It's a very unique world and a unique show. Was it a different experience for you just for what The Walking Dead is?
MC: It was. It's a whole huge machine to the top down, from the corporate end all the way down to set. Everyone is excited to be there, everyone is phenomenal at their job and the quality of the show is amazing, especially when you consider what they do in the time that they do it. But to come onto it, you're looking at arguably the biggest show in the world. If you're talking about advertising dollars, absolutely the biggest show in the world right now.
But, that being said, it's just another job. I have to approach my work, make sure my ass is covered and I'm providing what I sold and what they bought. I have my work that I have to do but a lot of what that entails is when you get on set and making it happen and doing your job and that only happens if you're in an environment that allows it to happen.
I have to say that this was one of the most welcoming, giving groups, not only from the crew and the producers but the cast, the hair and makeup, everybody involved. I've worked with some of the crew before. Some of the crew is from Southland, some of them I worked with years ago on other projects; just so giving and so supportive.
Within six hours after I was hired, I got emails from Andrew [Lincoln], Steven [Yeun] and Norman [Reedus] welcoming me and that's the kind of stuff that just makes everyone's work better…everybody does better work when people feel comfortable and safe. Only in a safe environment can amazing work happen.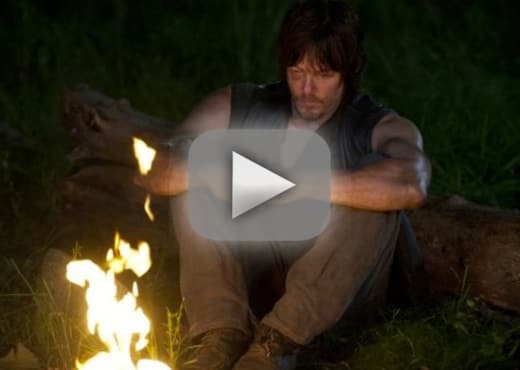 TVF: Tell me about the hair.
MC: It's the Scooby Doo/Daphne hair. I think that's on the label! I'm kidding. If you go into the graphic novel or Google 'Abraham Ford' and you go to images, it's very specific and it's very clear. It's a very specific red/orange deal. Scott wanted to stay true to that and I think it's awesome for a lot of reasons. It's true to the character and it's a very specific, iconic look. I was on board with that…it's part of the tools that make up the full costume and the full wardrobe of Abraham. It's really terrific…it's like putting the vest on for John Cooper.
TVF: And now you're not on a bubble show where you have to look at the ratings every season and wonder if you'll come back another year. This is not a bubble show at all!
MC: Well, the characters are on the bubble! [laughs]. And I joke about that but there's a real sense of that but it doesn't permeate into a bad thing. Everybody is very aware what they signed up for and are very excited about the energy of the show. Sure, it's sad when that happens but the show is only successful and exciting to watch because that happens and I think everyone is very aware of that.
The Walking Dead Season 4 airs Sundays at 9/8c on AMC. 
Jim Halterman is the West Coast Editor of TV Fanatic and the owner of JimHalterman.com. Follow him on Twitter.