For the second straight installment, serious family issues came to the forefront on Sister Wives.
Two weeks ago, on Sister Wives Season 4 Episode 16, Truely fell very ill.
On last night's Sister Wives Season 4 Episode 17, meanwhile, death visited the Browns.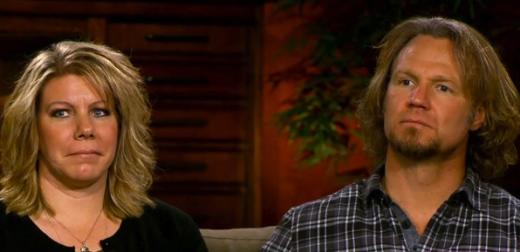 With a four-way commitment ceremony planned among his wives, Kody dealt with the news that his father, Winn, died at the age of 78. This tragedy befell the show's star just weeks after his brother was killed in a motorcycle crash.
Viewers, of course, have watched this family face one crisis after another over the years, but this was an especially difficult one to handle.
The ceremony - which included a Christian business associate as a planner in order to bring in some diversity - got put on the back burner as a result of this passing, with Kody going to spend time with his mother.
Despite his issues with his strict dad, Kody isn't handling the loss well. But he tries to use the sad event as a positive, getting a number of issues off his chest in Wyoming.
Kody tells Meri, for example, that she should inform her ex-employers that she's a polygamist.
Turns out, however, that they already knew, which led Meri down memory lane. She went to her old house and showed the kids the handprints they made in cement. Emotional stuff.
Later, in a tribute to Kody's brother, the family wrapped bandanas around the fencing post because Curtis was always see as the wild child cowboy.
Kody then checked in with his mother, who said she is doing better in the wake of her double loss and growing close to Sister Wife Cheryl. They often attend church together.
Kody wants the same sort of bond between his better halves. He yearns for them to remain close and strong, even if they must someday live without him. It's not a world they wish to imagine, but it's one recent events are forcing everyone to consider.
Matt Richenthal is the Editor in Chief of TV Fanatic. Follow him on Twitter and on Google+.