If you thought things were complicated when the Atrian 7 joined human school, things just got a lot crazier. 
In Star-Crossed Season 1 Episode 2 we met the Red Hawks, the elders and learned what an Eeksen is.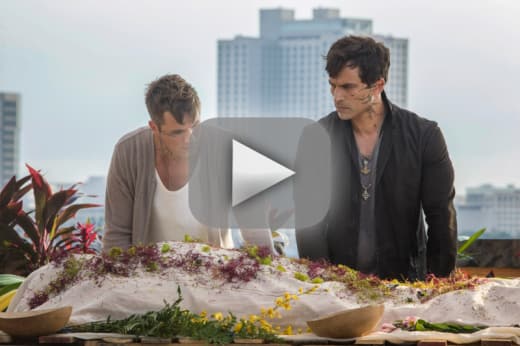 Star-Crossed Season 1 Episode 1 concluded with Emery's father accidentally shooting and killing Roman's father. Things got a whole lot more "Romeo & Juliet" when that happened!
Emery tried apologizing, but Roman would barely look at her until she made a public speech in favor of allowing the Atrians to come to the Homecoming carnival.
How can they learn to trust us when we don't give them reason to?

Emery
Thanks to Lukas, the video of Emery went viral and it received mixed but strong results. There was a brief cameo by Dora Madison Burge, another Friday Night Lights alum, who gave Emery her support. Meanwhile, Emery just worked on apologizing to Roman and to Grayson.
Grayson accepted with a basket of fried pickles, but we later found out his whole acceptance attitude was merely an act.
When Emery went off during the school board meeting, it was due to a guy named Robert Vartan who was running his mouth like a super-religious, prejudice, ignorant man. Lukas explained that Vartan was part of the Red Hawks, an extremist anti-Atrian group.
Truthfully, Vartan's character felt a little bit stereotypical with his redneck accent and the way he started quoting scripture right off the bat. Why did they have to make him religious or seem like an ignorant hick? I think a villainous character plays a lot better when it's someone who you least expect...like Grayson.
Grayson seemed to be more accepting and laid back, he even saved Drake from getting kidnapped by Eric and he also stood up to Vartan. After his date with Emery, we found out Grayson was really just a Red Hawk all along. That was a twist I didn't see coming.
Roman's Uncle Castor is another example of a shady character who was easy to sniff out. Castor used to run with the Trags, an outlaw group of Atrians who don't want to make peace with humans. The Trags want to hoard weapons and stage an attack. Roman finds out after some lying and sneaking around that their first target is Emery.
Alas, the star-crossed duo is brought back together again.
Stakes were high at the carnival, despite a few flirtatious scenarios between people like Drake and Taylor and Lukas and Sophia. Roman warned Emery and was on high alert, taking down a would be attacker who looked human because he had his Atrian marks erased.
Now Roman knows there are other undercover Trags out there and he'll never truly be sure who he can trust.
With too much on his plate, Roman decided to hand the role of Eeksen (I'm probably butchering this spelling) or Atrian leader over to his uncle. Just as predicted, even though Castor isn't a Trag anymore, he still totally has shady relationships. He said he doesn't mean harm to Emery but he has his reasons for keeping her and Roman apart. So what could they be?
By the way, it was great to see Julia out and about this week. It was interesting to see her arm spark blue from touching Roman's injury. Will she tell Emery about her theory?
I don't know if you've heard, but I'm kind of a miracle.

Julia
So what were your thoughts on the second episode of Star-Crossed? Were you as shocked about Grayson as I was? Vote below and then sound off in the comments!