If you were hoping for a lot of loving and romance from your favorite couples on The Young and the Restless this week, you were let down.
Valentine's Day meant even more backstabbing and intrigue on our favorite soap, thought we did get a definitive answer to a nagging question.
Everything was a set up to the big gala and the biggest moments since Monday happened during the gala. 
After Victoria and Nick (and everyone else) learned Victor had been keeping Adam's involvement in Delia's death a secret, Victoria quit Victor again. She quit her job, her dad and vowed never to return. She's done that before and it's an empty threat to Victor's ears.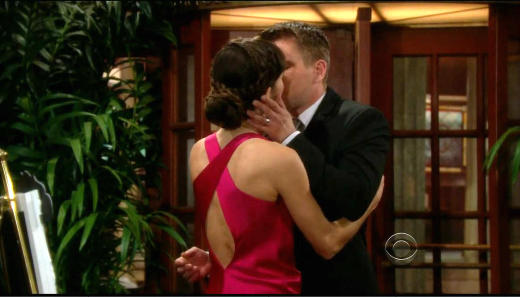 We saw whether NuOldBilly and Victoria could make sparks fly, and they did. Billy lit up more in the scene kissing Victoria (before Kelly barged in) than he has since he made his return. Right now, it looks like they can make it work as a couple. Nice job!
Devon and Esmeralda get the hot and steamy award as they were, literally, hot and steamy after taking a break from their party clothes to slip into the sauna for some hot sex. Hillary was looking for Devon and of course looked in the steam room. Seriously? Why would anyone look there? Hmmmm... he's in a tux. Better check the sauna! 
All that business of people gettin' busy after they've been all gussied up (I'm looking at you, too, Cane and Lily!) for a big event is a fantasy. There isn't a woman in the world who's going to do all that work twice for a quickie. Just sayin. He may be good, but he isn't so good she's doing her hair and makeup all over again!
As friends and family continue to find out about Jill and Colin, they're rightfully appalled. Any humorous appeal Colin had disappeared when he chose to ruin a benefit gala held on Valentine's day in the honor of a dead 7-year-old girl to pull off a diamond heist. That's just beyond despicable. 
The gala was already questionable. Did Victoria and Kelly think about the effect of seeing five little ones in costume on the stage in front of her might have on Chloe? I'm not her biggest fan, but it's no surprise it drove her over the edge. She would much rather see her Delia on the stage than be reminded that she wasn't there.
Honestly, everything about the gala felt wrong. Trying to mix a somber benefit to memorialize a little girl who lost her life in a horrible accident with a romantic holiday is just creepy. It makes everyone act inappropriately, and it's not the fault of the guests. Who wouldn't want to celebrate the holiday and use the gala as a way to do it? Now we're stuck with it every year on Y&R. Eeek.
Then Colin decides to steal a doll before the auction could even take place after he talked about brilliant he was for having been tested for a bone marrow match when Delia had leukemia. What a peach! All this time he's behind Womack's dealings. They could have stolen it after someone won it. Have some heart!!
And why couldn't Cane and Tyler hold Womack's hands behind his back? One job guys, while a valuable doll was being stolen out from under your noses, and you couldn't do it! Ugh!!
What is Fen's role in the heist? Lauren's going to kick Colin's ass (and Jill's) when she finds out he was dragged back into things after prison. That is one of the few things to look forward to out of this storyline.
Jack was brilliant this week. He was fantastic with Billy and utterly heartbreaking when he made his call to Phyllis. There was a lot of talk about Phyllis, starting the rumor mill that she may be recast shortly. I know some fiery redheads that would be good replacements for Michelle Stafford, but there have been so many changes lately, it will have to be a familiar face we all love to work.
Chloe made the movie I predicted -- and prepared to take Connor. She has him all bundled up and called a taxi. Either Kevin followed her (didn't he look concerned enough to do that when she left? I thought so) or she'll get away and his long abduction will eventually lead Adam home. 
Finally, since Victor wasn't outed as a big enough rat this week, he's also confirmed as planting the Cassie look alike to torture Sharon into telling the truth to Nick. We were left with a cliffhanger of Sharon saying she's been lying to Nick. I doubt she's getting ready to tell him about Summer. 
What do you think Sharon will say to Nick?
Carissa Pavlica is the managing editor and a staff writer for TV Fanatic. Follow her on Twitter.