American Idol Review: It's Show Time!
Miranda Wicker at . Updated at .
In keeping with the theme of giving contestants non-musical genre choices week to week and freeing them up to make their decisions feel a little more natural, the American Idol Top 11 will be singing songs from their favorite movies tonight.
The stakes tonight are high because those who remain after tomorrow night's results show will earn a spot on the Idol summer tour.
Will MK Nobilette bring it tonight and get herself out of the bottom tomorrow? Will Dexter Roberts find a way to make his movie song his own?
Let's find out...
Sam Woolf is up first tonight singing "Come Together" by The Beatles from the film Across the Universe. He drops the guitar this week and bobbles a note in the first verse. He's sitting on crates sort of jamming with his upper body while he...oh look! He stood up! He's working the stage a little bit but he is so painfully awkward despite having a ton of talent and star appeal and much of that comes from age. He has the potential to really blossom as an artist if he can break out of his shell a little. Vocally this is decent but not spectacular.
Keith loved that he was trying to loosen up. Jennifer tells him he needs to know that the girls like him and calls it a nice start to the night. Harry thinks he's on the way to where he needs to be but called it an average performance. 3.5/5
From Slapout, Alabama, Jessica Meuse chose "The Sound of Silence" from The Graduate. She gets more and more hair every week, first of all, but I really like what the stylists are doing with her look. Second of all, she has this weird vibrato in her voice that  can be cool sometimes but can also be overkill. That was sort of an odd performance for me. She never had a moment and settled into the song.
Jennifer said it seemed like the perfect song for her but she felt like Jessica never got her groove. Harry says the band was off but Jessica kept her focus and thought she did a nice job. Keith tells her to work on using the dynamics of the microphone instead of singing like she's still in a bar. 3.5/5
C.J. Harris chose "Can't You See" by the Marshall Tucker Band from the movie Blow. I'm really sad he didn't choose something from Indiana Jones given that hat he keeps wearing. I'm hooked from the first note and really hoping for this to be his moment to win me over. I want him to stop trying to have eyesex with the cameras because it's weird, but this is actually fantastic. WELL DONE, CJ!
Keith gives him a standing ovation and Harry kicks off the critique saying that he "picked and sang his way back to the forefront of this competition." Keith called it killer and said he completely nailed it. Jennifer loved it and called him a frontrunner. 5/5
In a choice that shocks no one, Dexter Roberts chooses "Sweet Home Alabama." The trouble about choosing this song is that it's been covered and covered and covered again so if yours doesn't absolutely ROCK it sounds like a cheap imitation. Dexter loses the hat and picks up an electric guitar and it still sounds a little karaoke. I really, really like Dexter and want him to do well but week to week he's underwhelming.
Keith thinks he's starting to loosen up and really sing but what he has to work on is making the song his own. (Thank you, Keith!!) Jennifer says he needs to put his own personality into the performance but thinks he's starting to believe that he can do this. Harry calls him really smart for choosing a song everyone knows but says he needed to be bigger than the song. 3/5
Ben Briley has ditched his baseball hat and donned a suit to sing Elton John's "Bennie and the Jets" from 27 Dresses, which he has never seen. He shows his musicality by sitting behind the piano for the performance like Sir Elton himself. He's incredibly clean cut this week which is a nice change. Halfway through he gets up from the piano stool to move around the stage a little and it's nice to see him working the stage. He does NOT have the falsetto for this song at all. I give him props for trying but that was awkward.
Jennifer looks confused when he finishes and it's her turn to start talking. She thinks he's trying to figure himself out a little bit and liked his vocal performance but didn't think it was a good song choice. Harry felt like he lacked purpose and says he doesn't know if we've ever heard the real Ben. Keith said he misses Ben's authenticity from his auditions and doesn't know who Ben is as an artist. 3/5
Majesty Rose says "Let It Go" should have been written for her. She starts in her lower register and it's hard to hear her. This song is difficult to sing right now because it's everywhere and this arrangement is TERRIBLE. It's all chopped to pieces to fit her given time so instead of building to the bridge she has to jump straight into it. Her voice strains and cracks and I really wanted her to do well, but it wasn't spectacular. It wasn't terrible. It just wasn't what it could have been.
Harry calls her a mystery and says that he's starting to lose sight of who she is but thought this was a strong performance. Keith thought most of it was really good but thinks that it might not have translated to those of us watching from home. Jennifer thinks she has potential as an animated film voice actress but can be anything she wants to be. 3.5/5
Resident rocker Caleb Johnson is singing "Skyfall" from Skyfall. This is definitely starting out as a much different performance for him. It's way more subdued than we're used to and I feel the renewed sense of wanting him to 1) shave or 2) cut his hair. I really like what he's doing here. The song shows his range and allows him to be a little more dramatic than usual (instead of his usual theatrical approach). 
Keith thought the performance was completely unpredictable and loved that Caleb showed restraint and power. Jennifer said this is what she's been waiting for. As far as Harry's concerned, the competition started tonight. 4.5/5
MK Nobilette​ is rocking the blonde hair and sequined jacket to sing "Make You Feel My Love" from Hope Floats. I'm hooked from the opening line. This song is PERFECT for her voice and this might have just become my favorite version of this song. she does lack a little in charisma on the stage, like she's not quite pouring her entire heart into it or is just too much in her head when she sings, but vocally that was the best of the night.
Jennifer said MK put us all in a great place and compares her to kd lang. There's a "beautiful subtlety" to what MK does. Harry likes seeing MK's name on a marquee because she does have star quality but cautions her to nail the runs if she's going to sing them. Keith thought the performance was amazing but wants her to lose herself in her songs more often. 5/5
Alex Preston dons a white jacket for "Falling Slowly." I'm sort of captivated from the beginning and find myself wishing I knew this song so I could sing along with him. I can barely critique this because I'm just so...sucked in. The song feels so pure. He does a fantastic job showing his range in the song and then ends on this really great moment. Wow. I really loved that.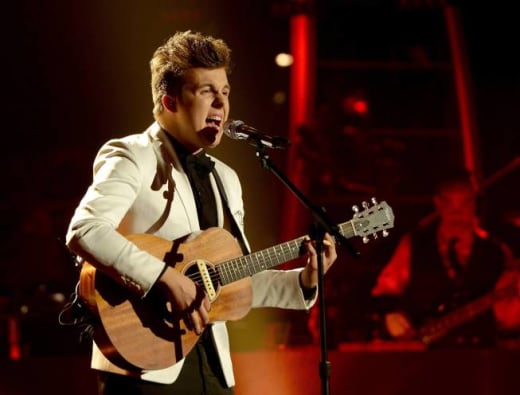 Harry loves that there's a platform for a guy to sing a simple song in an elegant manner and says he's really proud of Alex. Keith loved that the performance held his attention and called it "raw and fragile." Alex is always in the moment and authentic. Jennifer just says "beautiful." 5/5
From Twilight, Jena Irene chose "Decode." She gets behind the piano, which is where the judges (and I) like her most. This girl has a set of pipes on her that are unparalleled in this competition. At only 17, she definitely has a long career ahead of her if she chooses to pursue music no matter what happens this season. This is her best moment on Idol so far and clearly the best of the night. If I could give her more than 5 I would.
Keith says he loves what Jena does when she performs calling it "exhilarating." Jennifer calls her "the real thing" and doesn't know what she was doing in the bottom 3 last week. Harry called her performance different and "just as good" as the original. 5/5
Closing out the night, Malaya Watson is channeling her inner diva for "I Am Changing" from Dreamgirls. This is the song she says made her want to pursue music. When Malaya sings it's hard to remember she's only 16 because her voice and personality are just so big. She struggles a little on the lower notes, but she shines when she opens up. She gets a standing ovation from Keith and Jennifer.
Jennifer starts the critique saying that was a perfect song choice and a perfect song for her. Harry looks forward to watching her blossom as a star for years to come. Keith compliments her for knowing what songs play to her strengths and cautions her not to get caught up in the adrenaline of performing while acknowledging that it happens. 5/5
Tonight was an odd night of Idol. It didn't exactly get off to a strong start, which sort of had me thinking that the night would be a dud (like last week). I'm happy to report that we were all proven wrong with the last few performers to take the stage.
C.J. Harris, MK Nobillette, Alex Preston, Jena Irene, and Malaya Watson share my prize for best of the night. If MK and Malaya end up in the Bottom 3 tonight, I will have to question just what, exactly America is thinking. There's no way any of those 5 should go home or even be afraid of leaving tomorrow. At all.
As for who might leave tomorrow, Ben Briley could find himself in danger. His performance didn't really connect for me. Dexter Roberts and Jessica Meuse join him in my bottom 3. Dexter's trouble is that there's nothing about his performances that make him sound original. Jessica comes off as disconnected and, quite frankly, like she thinks she's better than she is. Yes, confidence is a great thing, but there comes a point when confidence turns to cockiness and "I'm not listening to what you say" starts to radiate and that's where she is right now for me.
What did you think about tonight's American Idol? Which contestant had the strongest performance?
Miranda Wicker was a Staff Writer for TV Fanatic. She retired in 2017. Follow her on Twitter.