American Idol said goodbye to Kristen O'Connor last week, bringing the number of contestants in the competition to 12. 
Tonight, the Top 12 will sing songs that remind them of home. Hailing from cities coast to coast with over half the contestants from the south, don't expect a night full of country music. The theme nights of old are gone.
Let's see where the heart is for the American Idol Top 12...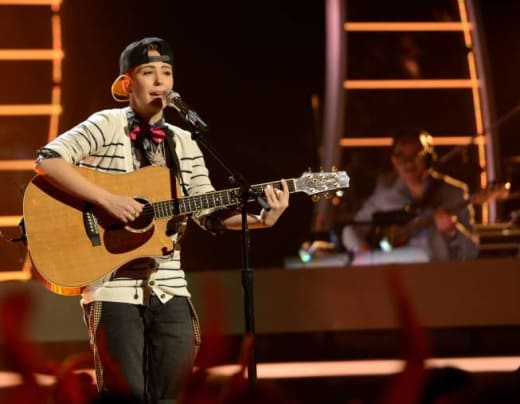 Jena Irene is kicking off the night with "Suddenly I See" by KT Tunstall. The song, she says, reminds her of her family and their many car rides singing together. Her wardrobe choice is weird against the backdrop. I'm so incredibly thankful that she's not starting the night with a slow, sleepy ballad. Her voice doesn't necessarily work for this song, but it's not a ballad. Praise! 
Keith loves her stage presence but didn't love the song choice. Jennifer says she's "at the precipice of blossoming on stage" and says the tone of her voice is what makes the songs her own. Harry wanted more energy since she's 17 years old. 3/5
New Hampshire contestant Alex Preston picked Gavin Degraw's "I Don't Wanna Be" which is a perfect song for him. PERFECT. He brings out an electric guitar and adjusts the phrasing of the song to make it his own, but it feels like something's holding him back. Maybe I've just spent too many hours watching the intro to One Tree Hill for this song to be okay anywhere else, but this wasn't Alex's best performance. 
Jennifer didn't think it was his best vocal performance and gets boos from the audience. Harry thinks Alex is better at the quiet and intimate performances than this and admires the fact that he did something different this time. Keith kept feeling the word "instability" and said the song was "around" Alex. 3/5
Jessica Meuse, from Slapout, Alabama, is singing "White Flag" by Dido, a song she's incorporated into her set back home. (Fun fact: David Boreanaz was in this music video.) Jessica's hair looks AMAZING tonight. She's really, really out of tune and too nasally for my liking which does something weird to the entire performance. There's a grating quality to her voice that is really unpleasant tonight.
Harry said she set the tone for the performance when she walked onto the stage and she was sharp the whole time. Keith loves her musicality and then sings--terribly--to prove the point that if the artist believes the song, pitch will be overlooked. (Since the audience didn't overlook her pitch, she didn't sell it.) Jennifer begins by complimenting her outfit and says that she just doesn't look comfortable on the stage. 1/5
Another Alabama contestant, Dexter Roberts is singing Montgomery Gentry's "Lucky Man." He's showing his mellower side with his backward ball cap and acoustic guitar. Without being familiar with the original song, I can't speak to how original Dexter made the song, but he certainly earned a few cheers from the audience for the stripped down performance. He has a really clear quality to his voice that makes the final note just fantastic. 
Keith felt he made a perfect song choice and loved that he showed his vulnerability. Jennifer talks about Scotty McCreery for 2 minutes before saying that Dexter surprised them tonight. Harry called it the best performance of the night. 5/5
Emily Piriz gets a video from home and her boyfriend, a Marine, before her performance. (Cheap shot with emotionally psyching her out, Idol...) She's chosen to sing "Let's Get Loud" by Jennifer Lopez to emphasize her Cuban heritage. Jennifer sings along with Emily, and so does Emily's dad. As a performance it's a little bit karaoke or cruise ship-py, but Emily's voice is great. 
Jennifer says it's hard to see someone do her song but it makes her happy to know she's had an influence on Emily's life. Harry called the song a "locomotive going down the tracks" and didn't think her intensity matched the production. Keith loved it but thinks she needs to be more confident. Harry wins the commentary on this one. 3/5
From Asheville, NC, Caleb Johnson is here to rock. He's singing "Working Man" by Rush. He won't sing with a cordless mic even if he's not using a mic stand. He needs to have something in his free hand. The band is having a blast but this Caleb performance feels tired. Vocally it's solid and right in his wheelhouse, but it just isn't exciting. 
Harry starts off by saying that Caleb is the most consistent performer on the show but calls him predictable. Keith calls him one of the best singers he's heard in a long, long time but notes that he's hampered by not singing with a band. Jennifer has been waiting for Caleb all night. 3.5/5
MK Nobilette is singing "Drops of Jupiter" by Train. She's from San Francisco just like Train so she feels like the song represents her. She plays the guitar for the first time and after making her first change to the original to much applause from the audience, she gets lost a little bit and her voice cracks. She doesn't quite settle into the stage or the song, but I still like her. 
Keith says she has to keep connecting her eyes with her performance. Jennifer didn't think it was a breakout performance but knows that she's trying to get there. Harry feels like she doesn't want to be here. He sees glimpses of joy in her performances but doesn't feel like she's comfortable. 4/5
The third contestant from Alabama in the competition this year, CJ Harris has picked a John Mayer number. "Waiting On the World to Change" is one of his favorite songs. No one told him Sanjaya ruined this song. He needs to open his eyes when he sings, first of all. Second of all, this song didn't get any better with CJ performing it. He does some different things with the phrasing which clearly makes it better than the first time it appeared on Idol but he's sort of awkward.
Jennifer thinks he looked great and loved the performance. Harry said he sang consistently sharp but made it work. Keith doesn't think he made the song his own and just sang it as a straight cover. 3.5/5
Sam Woolf has chosen "Just One" by Blind Pilot because it reminds him of his friends back home in Michigan, even though he's currently living in Florida with his grandparents. He taps into the heart throb vote by sitting next to the stage pit and staring into the camera uncomfortably during his performance. This is his best performance so far. He looks comfortable, he sounds great. He doesn't fold in on himself during the number as often as usual.
Harry really loved the lyrics and called it a pleasant performance but felt like his emotional dynamics were lacking. Keith knows he'll be here next week and calls the tone of his voice "buttah." Jennifer wants to see him push out of his comfort zone. 4.5/5
High school tuba player Malaya Watson is singing the first song she ever learned, "Take Me To the King" by Tamela Mann. She's straightened her hair and she's getting behind the piano, which is what made the judges fall in love with her in the first place. She starts off on a rocky note and hits a few more throughout the number, but she leaves everything she has on the stage. She sings big notes and shows her range and then seems shocked that it's over. That girl has some pipes!
Keith calls it "beautiful" and Jen got goosies. Keith loved the vulnerability of her performance. Jennifer loved how she told a story with her song. Harry thought this felt focused and even though there were some technical issues she didn't "go off the rails." 4/5
Ben Briley is singing David Nail's "Turning Home." He drops the guitar for Home Week. It's an interesting performance. Again, not being familiar with the song it's hard for me to say how original he made it. There were a few bum notes and he chewed on the lyrics making them nearly impossible to understand.
Jennifer thought he started out of sync with the music but settled in. Harry didn't feel the emotion that Jennifer felt. Keith said that he focused too much on the technicality of his performance and not enough on the emotional connection. 2.5/5
Closing the night, Majesty Rose is singing "Fix You" by Coldplay. Within the very first verse, I'm sucked completely into the performance. She adds some hints of gospel to the chorus which makes the number bigger than it needs to be and I don't particularly love the way the song ends. It started out with so much promise.
Harry wished she had stayed in the quiet place throughout the entire performance. Jennifer agrees with Harry and Keith says we'll see her next week. 4/5
This was a really awkward night of Idol. The theme of home either made the contestants overthink everything or underthink it, and I really can't tell which. The contestants were all either too confident that they'd absolutely made the right song choice or clearly not confident enough. Everything was incredibly lackluster.
Dexter Roberts won the night for me since he seemed to be the only contestant truly aware of himself and his song. Sam Woolf had a strong vocal, but just as the judges said, he has to work on his emotional balance. Malaya Watson might have redeemed herself, but she did take a risk with her song choice. 
I can justify every contestant (except Dexter) making it into the bottom tonight. Jessica Meuse and Ben Briley are headed to the bottom of my roster. Emily Piriz could find herself there, too, but there's no way she'll go home this early. Caleb Johnson is going to find himself in danger if he doesn't become more than a one-trick pony. 
I vote that Jessica Meuse leaves us tomorrow night.
What did you think of tonight's American Idol? Which contestant had the best home week performance?
Miranda Wicker was a Staff Writer for TV Fanatic. She retired in 2017. Follow her on Twitter.