Chrisley Knows Best Review: Does He, Though?
Matt Richenthal at . Updated at .
USA Network got into the rich-person-reality-show business this week, taking a pretty big step away from fare such as Suits and Psych with the premiere of Chrisley Knows Best.
The series kicked off last night and focuses on flamboyant self-made millionaire Todd Chrisley, whose wife and kids live in a 30,000 square-foot house that - Todd is happy to tell you - is in the same gated Atlanta community as stars such as Usher and Chipper Jones.
Where does Todd stand on the Obnoxious Wealthy Person scale? Above or below such Real Housewives as Teresa Giudice?
Here's a rundown of the premiere's most ridiculous/irritating/entertaining moments: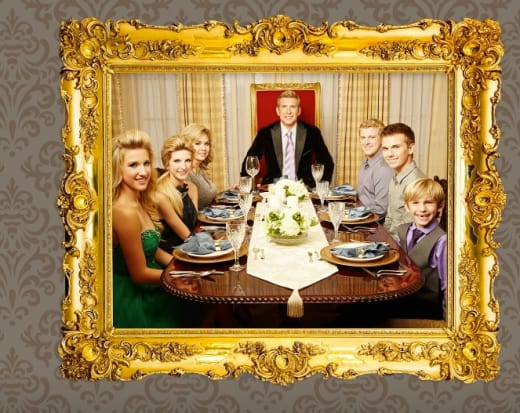 Chrisley brags that the family spends over $300,000 a year on clothes.
The meticulously organized bedroom closet is bigger than most apartments. And some actual homes.
Chrisley's choice quotes include: I approve every piece of clothing that our children wear," along with describing his oldest daughter as "beautiful," "smart" and "bitchy."
His 15-year old daughter proudly dresses like Pamela Anderson. Her words, not ours.
Chrisley places LoJacks on his children's cars, reads their texts and tracks their Internet usage, tossing one of their computers into the pool at one point.
His 17-year old son gets pedicures.
His seven-year old son likes Hooters. ("I wanna see some hot girls," the firs grader says on the way home from school.)
Chrisley is starting a department store and is aghast at selling anything over a Size 6. "I understand," he tells his buyer, "that we have to have a certain amount of those sizes that I don't particularly care for." 
So, is Todd Chrisley the next big thing on reality TV? Does he really know best?
And will you be tuning in for Episode 2?
GRADE THE PREMIERE NOW:
Matt Richenthal is the Editor in Chief of TV Fanatic. Follow him on Twitter and on Google+.