It's not often that the Unsub in a Criminal Minds episode has a back story more engaging than any of the BAU character back stories. 
But the case of Marvin Caul (played so well by David Clennon) was one such welcome exception to the norm.
If we hadn't learned about Reid's angst about his mother, it wouldn't have made any difference. This was one terrific Criminal Minds Season 9 installment.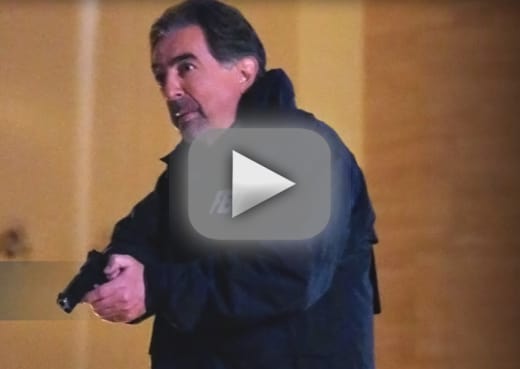 Criminal Minds Season 9 Episode 17 started with the BAU investigating the case of two drowned women who were found in the desert just outside of Las Vegas.
Almost immediately afterward, we were introduced to Finn and Marvin - two cohorts in crime who met each other in a diner where Finn had asked about employment.  It was hard to tell whether he was sincere in his request once Marvin outed Finn as a pickpocket.
Marvin offered to help Finn hone his skills, and from there we got to see an entire society of grifters and con artists, all living together in a sort of fiefdom, paying "taxes" (a percentage of their take) to Caesar, who said he was taking orders from someone called "The Doctor."
Marvin made it seem that Caesar was really the main man and that "The Doctor" was his mental construct. This perception was reinforced when Caesar claimed that "The Doctor" had strange powers. As it turns out, "The Doctor" was actually Marvin... which we didn't discover until near the end of the episode.
Marvin was obsessed with keeping order in his fiefdom and he couldn't abide lies. Hence the reason for killing some of his "subjects" - ostensibly because they withheld a portion of their "taxes. At each body disposal area, he had the symbol "2/10" painted as a warning to other thieves not to cross him.
There were three characteristics of this episode that made it unique and compelling.
The first had to do with the structure of this story. It was different in that it didn't involve the usual plot where a psychopath had strange desires, prompting him to go out looking for a certain type of victim.  Marvin's victims were all about his need to maintain control in his secret society.
The second had to do with Marvin's close ties with his fellow crooks and thieves. It was reminiscent of Oliver Twist:  Marvin playing the part of the evil but genial Fagin. Since Finn was too far gone to be Oliver, he could only be The Artful Dodger.
The final aspect of the story that made it amusing and thought-provoking was the juxtaposition of irony and intent.  Marvin couldn't abide lies and he couldn't stand it when someone stole from him. Yet his whole life, the activities of his entire gang involved deception and theft. 
When Finn joined him, he too lied to Marvin. His intent wasn't to hone his thieving skills, but to find out about what happened to his sister and to avenge her death.
The woman who later joined the underground gang lied about her intent as well: she wanted to do up a newspaper report on the homeless of Las Vegas.
Finally, when Reid brought everything to a close, he did so by lying through his teeth. First, to Finn, telling him that his sister died of an overdose in a crack den. And then to Marvin, telling him he'd seen him in a show years ago.
Marvin: Did you you really see me at the Lotus Inn?
Reid: The truth?
Marvin: I can't abide lies.
Reid: I wasn't even born yet.
The whole tale was wonderful and entertaining. Frankly, I'd like to see more this type of storytelling.
Final thoughts:
Have you noticed that the flirty talk between Morgan and Garcis has diminished quite a bit this season? Although I can respect the type of character development that would explain this, I do kind of miss it.
The women who were drowned were victims of a flash desert rainstorm. Their society was underground and so the rain runoff was used by Caesar (who carried out Marvin's executions) was used to kill them.
We're so used to seeing unsubs with weird victim fixations that it was easy to play out the story in this way - bypassing our expectations with a tale about a man who just wanted control of his kingdom. 
The poll for this episode is a simple one. What did you think of this unusual episode?
Douglas Wolfe was a staff writer for TV Fanatic. He retired in 2016. Follow him on Twitter
.