It appeared that almost everyone was getting played on Dallas Season 3 Episode 4, as past indiscretions and dirty little secrets were used against both enemies and allies. 
Although it's getting harder to tell who's a friend and who's a foe on Southfork, let's start with the fun.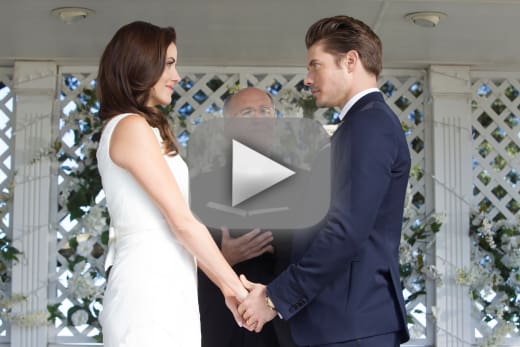 Pamela made a beautiful bride…again. Of course, Southfork has a long history of brides walking that aisle more than once so she's in good company. 
Afton was the epitome of the abrasive mother of the bride. Nothing about this day was going to make her happy. I was impressed that Sue Ellen held her tongue as long as she did, especially considering how often she'd been sipping from that flask. 
But when she finally let loose in this Dallas quote, she made sure it stung…
Just so you know Afton, the most despicable thing J.R. ever did was you.

Sue Ellen
However, I couldn't help but laugh when Afton smacked John Ross upside the head as she left the room. He kind of deserved it for embarrassing Pamela in front of all of their family and friends. 
The truth is, John Ross loves her and he meant it when he said they're meant to be together. Unfortunately, J.R. and Sue Ellen were lousy role models when it came to marriage. It's only a matter of time before the truth comes out and it all blows up in his face.
Sue Ellen was wrong to want to tell Pamela about John Ross' infidelity on her wedding day. Annie was right. That would have been humiliating and what difference would it make since the two are already married? 
Even though I didn't expect John Ross to roll over when his mother threatened him, he certainly pulled no punches with his response…
You've looked the other way your whole life Mama. One more time's not going to hurt.

John Ross
Blunt but accurate. Between the ghosts from her past and the alcohol running through her system there's no telling what Sue Ellen will do next. 
I knew Harris Ryland wouldn't have John Ross meet him at a brothel for no good reason, although watching the Railroad Commissioner sexually role play with a "dog" was pretty darn funny. When he ordered her to sit as John Ross walked in, I couldn't hold back the laugh. 
Hopefully, John Ross knows not to bed his secretary with his wife working in the same office…but then again, he's sleeping with his step-cousin under the same roof so…
Speaking of philandering married men, Nicolas had some great lines for Elena. When he told her that God understood that his heart no longer belonged to Lucia and that it may have always been Elena's, she ate it up. For some reason I expected more from her. 
But Lucia won't be trifled with. She's decided to keep her husband and she knows his secrets. I can't wait to find out what else is in Nicolas' past that has him so scared. 
How dangerous is Nicolas Trevino? Will Harris get the goods on John Ross? Is Sue Ellen going to tell Bobby about her son's affair with his step-daughter?
Something tells me that wedded bliss won't last long on Dallas.
Now it's your turn, TV Fanatics, will John Ross be able to resist Candace?
C. Orlando is a TV Fanatic Staff Writer. Follow her on Twitter.