Emma Ryland was at it again on Dallas Season 3 Episode 3.
This time, she was showing off her bikini to John Ross and even her own mother noticed. But that was just the beginning. When Pamela asked her to go shopping, Emma made sure she and Pamela bought the same sexy lingerie. Then she wore it during a tryst with John Ross, only to have him go home and see the same thing on his wife.
It was enough to give even a stud like John Ross performance anxiety.
But he'd already had a rough day. Uncle Bobby bested him once again. Bobby called in the Sierra Club to stop the fracking on South Fork to investigate whether the land was home to the endangered Lesser Prairie Chicken. 
Elena and Nicholas found nothing but road blocks in their search to prove Cliff Barnes innocent of murdering J.R. But Nicolas was there to make Elena feel better and the two made love.
Meanwhile Christopher was investigating Nicolas down in Mexico, only to meet the man's wife and sons. Guess he forgot to mention those to Elena.
You can watch Dallas online here at TV Fanatic.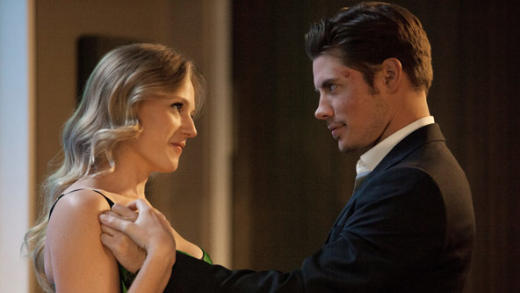 C. Orlando is a TV Fanatic Staff Writer. Follow her on Twitter.