Poor Sergeant Drew Wu.
Just when it looks like he's going to be in on the Wesen secret in Grimm Season 3 Episode 14, his "gateway Wesen" was an Aswang. 
You know, just your typical, average amniotic fluid sucking Wesen.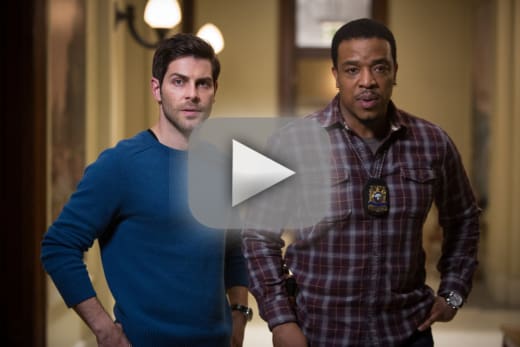 Much like Hank's initiation before him, Wu's introduction into the world is going to take some time now that he's checked himself into a mental hospital.
On one hand, I'm disappointed that Grimm has gone ahead and made Wu's first interactions with them so traumatizing. It's almost nutty how tempered Nick's beginnings with Aunt Marie are compared to the vicious Aswang.
Yet, on the other hand, a longer, gorier story gives Wu way more to do, and that is always appreciated. 
Hank knows what Wu is going through and is the only one out of the group (aside from Juliette) who thinks Wu should be told... yet when he tries to build up the courage to do so he loses his nerve.
Hank's had plenty of run ins with Wesen, but when it comes to bringing someone into the clubhouse, he's just as nervous as everyone else is. No one wants to think they're crazy and no one wants others to think they're crazy, but it's exactly what's happening to Wu by keeping him in the dark. 
Just this once, though, Nick isn't the first one to begin putting the pieces together of the Wesen. Wu originally dreams of his Grandma telling him the story of an Aswang and he later goes to see his cousin to get more information.
Wu is leading, and Nick and Hank are, later on, merely confirming that Wu's recounts of the myth are true. As much as I enjoy Nick's character, a different perspective on the world is a welcome change. 
Meanwhile, Adalind is finally giving birth to the baby from hell, and in the process regains her powers. Getting get back to the creepy baby. Meisner brushing Adalind's hair out of the way is a serious issue for the little baby royal.
She gives him quite the epic stare down with those soulless eyes. Meisner, overall, is just not having a good day in general. First, he helps deliver evil, and then a kind gesture gets a death grip. Not to mention dodging flying objects and getting his hand chewed on.
Still, Meisner does have some chemistry with Adalind. Maybe he'll find his way back to Portland soon. 
Are you disappointed Wu didn't find out right away?