Tonight's penultimate installment of Helix Season 1 is bound to upset fans that still believe their favorite characters are safe.
I realized early on that the body count would probably outweigh the survivors on this show.
Helix Season 1 Episode 12 gave us some insight into the immortal assassin known as The Scythe. I had a feeling Constance Sutton was his mother and this was no ordinary mission, it was personal for him.
Though The Scythe definitely caused some damage this episode, he just wasn't as menacing as in Helix Season 1 Episode 11. He came across as a brat, used to getting his way and pitching a fit when he doesn't.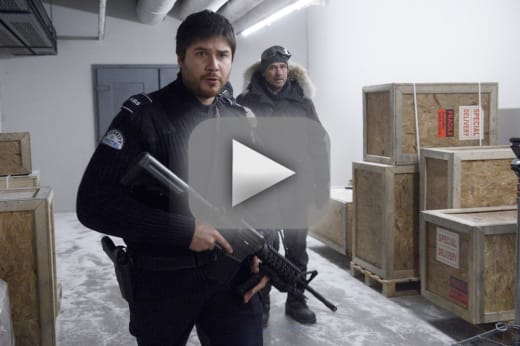 The mission was clear:  deliver Narvik and its cure to Ilaria, as well as Hatake alive. Everyone else was to be terminated. Of course, once The Scythe learns via security surveillance footage that Hatake killed his mother, Constance, the mission takes a back seat to revenge.
I'll be honest, I'm not sure if the actor's performance didn't work for me or if I had a hard time accepting this kid as a killer. Either way, I was very disappointed with The Scythe overall. I found him to be one of the weakest characters Helix has given us this season. Perhaps the kid should have kept the mask on or been a creepy vector like Peter. At least that would have been scary and way less campy.
Our survivors are gathered in Hatake's underground bunker/cabin and Alan tells a silver-eyed Sarah that they have to stop Ilaria.
What we've seen of the virus so far, it's small scale. Ilaria has world wide ambitions and we can't let them succeed. There is no running or hiding. Either they survive or we do.

Alan
Daniel/Miksa returns from his search for the remaining scientists and reports they're all dead, slaughtered by the masked Scythe (the cool guy). Peter feels an intense guilt, as he was the original Vector that caused so much damage and infected the others.
Julia and Sarah's conversation confirms what I suspected, that Sarah is now immortal. She will look twenty six forever. It was also interesting to learn that Hatake was born in 1501 and is five hundred thirteen years old. I think it was wise of Julia to recommend they keep their secret from the world. Full disclosure would only lead to testing the immortals and who knows what else.
We check in a couple of times with Balleseros, Anana and Tulok (the twin). Where were they headed anyway? Back to Arctic Biosystems? Anana's crushin' on Sergio and trusts him 100% now, but Tulok thinks she's crazy. The guy is only out for himself.
While The Scythe (who's real name is Spencer) obsesses over the footage of Hatake killing his mother, there's moaning coming from a large container. What did they inject the woman inside with? Morphine to quiet her down?
Hatake knows The Scythe and his team are listening in on his conversation, so he misleads the kid. They talk about creating a diversion to incinerate the Narvik. In reality, the Narvik and cure are stored in a small fridge in the bunker/cabin.
Hatake and Alan head outside to The White Room to get the fake Narvik when they're met by The Scythe. Hatake throws the tube, the woman, Thea, runs after it and the ice collapses beneath her. The effects work here was questionable. Was the budget running out? There have been instances where the visual effects are not up to par, other times things are rendered quite beautifully. It hasn't been consistent, that's for sure.
Going over the surveillance footage, The Scythe learns that Julia is Hatake's daughter. Naturally, he goes after her and somehow manages to pull her out of the elevator emergency hatch. I'm not clear how exactly this went down, and will have to watch that scene again.
Soon a tube tumbles down into the bunker with a note to Hatake. It reads "she has nine fingers left, I only had one mother." Yep Julia's lost a digit. Hey at least she's still immortal. I'd give up a hand to live forever, wouldn't you?
The air duct plan was much less interesting than The Scythe placing a bomb collar around both Julia and Daniel/Miksa's neck. Why Daniel decided to take the Narvik to The Scythe and how the scrawny teen overpowered him is beyond me.
So who will it be? The miracle that is your biological daughter? Or your loyal son, who dedicated his life to you?

The Scythe
Though Hatake begs and attempts to reason with the kid, I think we all knew Julia wasn't going to lose her head. Daniel understood, despite his love for his father, that Julia would always come first. He bravely removes the collar and... boom! Farewell Daniel/Miksa, we hardly knew ya.
I'd just like to say that Meegwun Fairbrother did a wonderful job on this show. He took a character we were all suspicious about and made him likeable. So much so, that I read several tweets tonight from fans saying they plan to skip Season 2 since Daniel was killed off. For me, that's the nature of this show and I accepted that early on with Doreen's death. A second season has not yet been ordered, but will I watch it? ...hell's yeah!
The Scythe is easily overpowered after Daniel loses his head and the nearby monitors reveal that Julia's mother is the woman inside that container. Why did the immortals have her? As a bargaining chip to make sure Hatake and Julia cooperate? I guess we'll find out next week.
If you missed something, like that elevator scene and want to check out tonight's episode again, Watch Helix online right here at TV Fanatic.
So tell me, who do you think will be the first casualty in the Helix Season 1 finale?