Once Upon a Time in Wonderland Review: Playing the Hand You're Dealt

Christine Orlando at . Updated at .
Everyone's "Dirty Little Secrets" were revealed in Once Upon a Time in Wonderland Season 1 Episode 10, as the fight to save Wonderland took on a new twist. 
I've got to hand it to The Red Queen. She was my least favorite character when this show began ten episodes ago but, oh, how things have changed.
She started off a caricature and has ended up being the most human of all.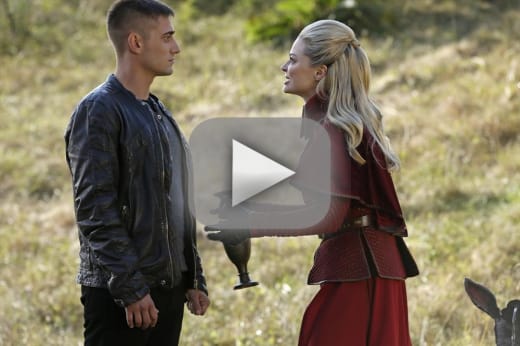 She wants to atone for the mistakes that she's made but that's not an easy path. 
It's obvious that she's dealt with the Jabberwocky before because just hearing the name scared her into a panic. Not to mention that she didn't hesitate to run a sword through the Jabberwocky when she appeared. 
Yet, when she woke up in Jafar's clutches she still managed a convincing amount of bravado when she told him in this Once Upon a Time in Wonderland quote…
You can dispense with the insufferable small talk Jafar, or is that your idea of torture?

The Red Queen
Unfortunately, when Jafar told the Jabberwocky to break his nemesis that is exactly what happened. As hard as that was to watch, I'm not upset it went that way. I kept expecting the Red Queen to get the upper hand but it never happened. It was both disappointing and refreshing. 
Alice and Cyrus set off to find the Guardian of the Waters which led to Alice finding out exactly how Cyrus became a genie. Turns out Cyrus was once an arrogant thief who let his own desires override fate. 
As punishment, the Guardian made him and his brothers genies, therefore their fate would be to serve the desires of others. Rather poetic, in a cursed fairy tale kind of way. 
Now Cyrus realizes that in saving his mother, he gave Jafar the power to destroy all of Wonderland. That's a horrible burden to carry and one that only defeating Jafar will lift. 
How he gets his mother out of that serpent staff is anyone's guess. I'd venture that Jafar may have to die for that to happen. 
I wasn't sure what to think of the Jabberwocky at first but she's turned out to be more fun than I expected. Can anyone other than Jafar stop her?
With the Red Queen in Jafar's clutches, will anyone save her and who will win the fight for Wonderland?
Now tell us, TV Fanatics, would you like to see the Anastasia and Will get back together?
C. Orlando is a TV Fanatic Staff Writer. Follow her on Twitter.