Utter chaos erupted when Jasmine's mother Renee insisted it was time Aida was baptized on Parenthood Season 5 Episode 17, but the time together turned out to be exactly what the Braverman family needed.
Any large family gathering can be chaotic, but toss in a breaking marriage, a second-place godfather, stoned siblings and the sale of the beloved childhood home and an extra dose of crazy cracks the surface of a peaceful dinner.
The way everything cascaded into place worked really well. And even though nothing was resolved as the hour was finished, there was a temporary sense of peace.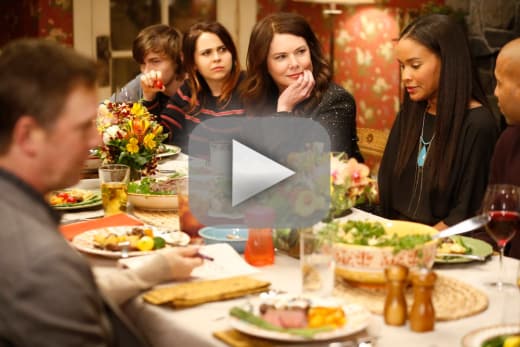 When Jasmine's mom is involved, tensions always rise. If Sarah thought that Max had a hard time with the word no, Renee must have had a hard time understanding that conversation because Renee just walks right on by. It wasn't really her place to push the issue of a baptism, especially given the unstable circumstances of Crosby and Jasmine, but the addition of the dinner helped get some issues out in the open.
Since Julia and Joel are apart, Renee pointed out that he wasn't the right choice for godfather any longer. It wasn't exactly her choice, but nobody likes to argue with her. That caused strife with Joel and Julia, but did force Julia's hand to make a call and ask why Joel hasn't been fighting for them.
It wasn't really a surprise that Joel didn't have an answer. It wouldn't be surprising if the writers haven't determined a reason for Joel's disappearance in the marriage at this point. He's just gone. None of it makes a lot of sense given the evidence, and his lack of communication is so off the wall attempting an explanation when it wouldn't stand up seems unwise.
Before that's tackled in more detail, let's hit what else occurred leading up to the dinner.
Drew finally reached his breaking point with Natalie and Berto after seeing them hook up. They're both rather useless and Drew has more in common with his sister. He and Amber were in her apartment having two separate conversations at the same time but following along without issue. They get each other. They decided to get drunk and high, apparently not realizing the big dinner was that night. 
Watching them tumble out of the cab, downing mints and dripping eye drops into each others eyes, then jamming asparagus into their mouths by hand at the table was an interesting scene that wasn't lost on Kristina and Adam, who were feeling put off by Sarah because of Max's lack of desire to listen to the word no. It's not that he doesn't know it, he just doesn't like it.
Crosby asked Adam to be Aida's godfather, but he neglected to tell him he would be stepping in for Joel, who had resigned. While everyone was bickering about all of this, information about the sale of the house came up and then somehow Julia decided it was all her fault if only she had held her marriage together long enough to get through the baptism... what?!
The end result was Zeek talking to Joel and finally eliciting some emotion from him. If anyone can bring a tear from a grown man, it's Zeek Braverman. His speech about walking Julia down the aisle and feeling comfortable putting his daughter into Joel's arms was rough. It got through to Joel on some level because he showed up to the Christening.
What was interesting and not apparent from the commercial was that Joel didn't smile at Julia, but at Zeek. The look he has for Julia was far more reserved and somewhat concerned. It seemed as if he might have felt coerced. 
Some really great news was Drew decided it was probably best if he stayed with Amber so they can support each other. Does this mean we won't have to suffer through the dorm life anymore and can nix Natalie and Barto off the schedule? Hooray!
The dinner was so brilliantly done and just made the hour. It's difficult to imagine that at least some of that conversation isn't improvised. The actors know their characters so well; don't you imagine them speaking on their behalf trying to get in the best zinger?
What did you think about the chaotic, lovable baptism weekend for Aida? For a refresher, be sure to watch Parenthood online and then hit the comments with your thoughts. We never talk anymore!!
Did Zeek force Joel's hand before he was ready?
Carissa Pavlica is the managing editor and a staff writer and critic for TV Fanatic. She's a member of the Critic's Choice Association, enjoys mentoring writers, conversing with cats, and passionately discussing the nuances of television and film with anyone who will listen. Follow her on Twitter and email her here at TV Fanatic.